This month's W magazine features an interview with Jake Gyllenhaal in which he talks about his upcoming movies Jarhead and Brokeback Mountain. Issue hits NYC newsstands today and the rest of the nation very soon. Below you'll find an excerpt: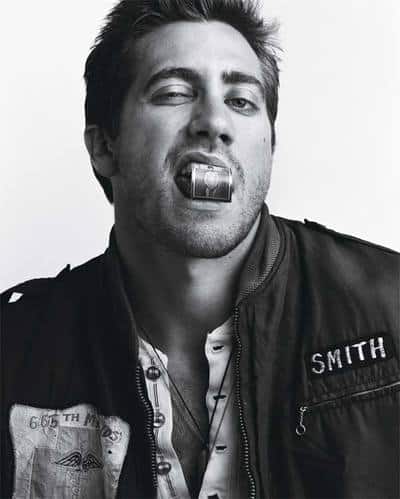 In a scene destined to be this year's boldest cinematic taboo-breaker, Ennis del Mar (Ledger) and Jack Twist (Gyllenhaal) surprise themselves one night by consummating their crush during a wordless encounter in their moonlit pup tent. After Jack makes the first move, Ennis, with very little fanfare and even less tenderness, puts Jack on all fours and takes him from behind. Lee recalls that the scene required 13 takes spanning one very long day. "I was very proud of Jake," he says. "What he does with that scene is very moving, very real, with a lot of emotion and a lot of excitement."

"Uh, I don't really remember much of that day," says Gyllenhaal, laughing. He spent much of it cutting the tension by joking with Ledger about who was going to do what to whom. "It's one of the riskiest things I've done in my career," Gyllenhaal says, likening the experience to jumping into a very cold lake. "At a certain point you just take a deep breath and dive in. And then the water's freezing, and you jump out as fast as you can."
Now who wouldn't have given their right arm to be Best Boy on that day, eh? From all reports, Ang Lee handles Brokeback's sexual scenes with subtlety. If all goes as planned, next week I'll be able to let you know if that's the case. For now, enjoy these shots.
Related
Brokeback Mountain Shines in Venice [tr]
Brokeback Mountain Trailer Online [tr]
Heath on Brokeback: Fear Conquered [tr]
Thoughts on the Brokeback Mountain trailer [tr]
Love is a Force of Nature [tr]
Heath on Brokeback: Best Script Ever Read [tr]
Jake "Coy" on Brokeback Love Scenes [tr]
The Brokeback Tease Continues… [tr]
Cowboy Ballads [tr]
Brokeback Mountain Teaser Trailer [tr]
Heath and Jake Swap Spit [tr]
Cowboy Love [tr]