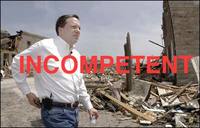 UPDATE: Michael Chertoff announces that Coast Guard Vice Admiral Thad Allen is to replace Brown as principal Federal Officer with regards to Katrina efforts in the Gulf Coast, Brown to head back to Washington to stay on at FEMA. What a shady way for Bush to take the heat off while not having to accept responsibility.
Do you want Brown to continue to oversee "the big picture"? I don't.
Blistering new revelations are coming to light about incompetent FEMA director Michael Brown.
The most recent is this TIME magazine report that Brown's "emergency services" qualifications, light as they were already, were trumped up on his resume to make it appear that in his work for Edmond, Oklahoma's emergency services division he had authority over employees when in fact his job was more like that of a clerical intern.
On that same resume he also claimed he had won an "Outstanding Political Science Professor" award from Central State University when records show he was only a student there and not on the faculty.
FEMA is rife with cronyism. as the lead editorial of today's New York Times points out:
"Political patronage has always been a hallmark of Washington life. But President Bill Clinton appointed political pals at FEMA who actually knew something about disaster management. The former FEMA director James Lee Witt, whose tenure is widely considered a major success, was a friend of Mr. Clinton's when he took office in 1993, but he had run the Arkansas Office of Emergency Services. His top staff came from regional FEMA offices."
Unfortunately, "President Bush chose to make FEMA a dumping ground for unqualified cronies" at the expense of thousands who lost their lives in the Gulf Coast because the government does not know how to deal with disaster.
If you think this country is better prepared for a terrorist attack than before 9/11, look at what's happening in the Gulf Coast because the same team will be responding. When is someone going to be held accountable?
Do you want this man here when a new disaster comes calling? [tr]