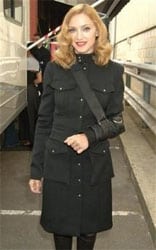 Rumors have been swirling that a September 7 event thrown by Apple at San Francisco's Moscone Center will be the introduction of the long-awaited iTunes phone that the company has been working on with Motorola. The new phone is reportedly going to be called the Rokr.
Madonna has thus far held out on entering the digital music sphere but news out of London is that she has just finished (arm sling and all) a commercial for the new phone that will feature instrumentals from her upcoming dance single "Hung Up". This photo is said to be taken following the shoot for the commercial at Shepperton Studios.
Fansite Madonnalicious reports the details of the commercial as such: "Open on a phone booth in a village in the mountain desert of the Middle East. A teenager is talking on the phone with his girlfriend. He's speaking a foreign language; so what he's saying is subtitled. Madonna walks up and into the phone booth. She puts her hand on his cheek and kisses the teenager. Madonna asks the teenager 'Who's that girl?' We then hear his girlfriend's voice screaming through the receiver: 'Who's that girl?' An instrumental version of Madonna's new single Hung Up then begins to play as other characters are introduced and squeezed into the phone booth.
First Beethoven and Hendrix join Madonna and the teenager in the booth, then the other stars arrive and pack into the booth with various difficulties. Just when we think no one else can fit in along comes Biggie Smalls….and the commercial cuts to Madonna's face being pressed against the glass as she yells 'Biggie….NOOOO!'"
An iPod Cellphone said to be Imminent [ny times]