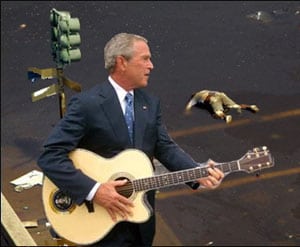 The Bush administration's censorship of media coverage of the recovery of the dead from the flood-ravaged city of New Orleans has begun in earnest.
Like the flag-draped coffins returning from Iraq, they're the casualties the Bush administration does not want the American public to see.
Why? Because they know their lax attitude in responding to this disaster likely contributed to hundreds if not thousands of unnecessary deaths. While Bush played the guitar, Condi shopped for shoes, and Cheney went house-hunting for a million dollar mansion, the floodwaters rose and the Federal Emergency Management Agency sat on its hands.
Now, in addition to the media being banned from photographing the dead recovered from the floodwaters, new reports are coming in that all media are being banned from Jefferson Parish:
"At the National Guard checkpoint, they are under orders to turn away all media. All of the reporters are turning they're TV trucks around. Things are so bad, Bush is now censoring all reporting from NOLA. The First Amendment sank with the city."
Will the mainstream media let it slide again?

Pelosi on Bush: "Oblivious, in denial, dangerous."