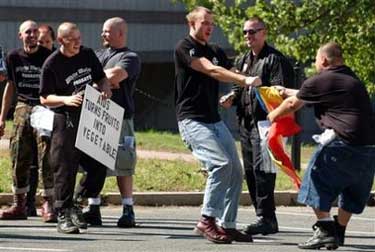 Connecticut's Civil Union law went into effect over the weekend, prompting many gay couples to accept the rights offered to them by that state even though many legal issues are left unresolved by the unions, including how they will be accepted on a federal level and in other states.
Many are left wanting more with the civil union law.
John de la Roche and Michael Hargrave, a couple together for 13 years, objected to the party being thrown by Connecticut group Love Makes a Family, saying that civil unions just aren't enough: "I cannot force myself to go and dance at this. I just think it's really insulting that we have to sit in the back of the bus."
Still others are just angry. A group of about 50 protestors sponsored by the Family Institute for Connecticut gathered in front of the state capitol in Hartford to object to the offering of rights to gays and lesbians. A group above (which may or may not be related to the FIC), also demonstrated, shredding a rainbow flag.