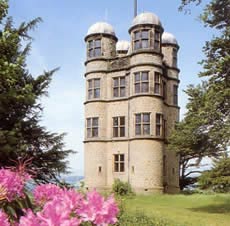 Originally used as a banquet house for aristocratic ladies, these are the new digs of Prince William at Chatsworth Estate, where the future King is learning about farming.
To be read in the voice of Robin Leach: "Standing some 400ft above the main house, it consists of two twin bedrooms, a dining room with kitchen and a large lounge. And the Prince needn't worry about draughts; the building's owner had the tower lavishly restored and refurbished earlier this year…"
"William is sharing the building with two royal protection officers." Strapping, of course.
The home features a shower room on each level as well as a "turret toilet", where William no doubt makes a royal flush.
Related
Life Portrait of William Unveiled [tr]
Wax William Debuts [tr]
Prince Harry Turns 21 [tr]
Together for Eternity! [tr]