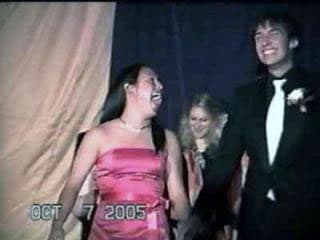 In a decision that delighted their fellow classmates and threw the Illinois Family Institute into a fit of disapproval, two openly gay students have been chosen as homecoming king and queen at Buffalo Grove High School outside Chicago.
Much is being made of the fact that a jock and cheerleader are school royalty but the roles seem to be reversed. Jen Wohlner is the athlete and Ryan Cooperman is the cheerleader. Said Cooperman, "Like, you know what? I'm gay and if you have a problem with that, I really could care less." Wohlner added: "I'm proud of who I am. Not just that I'm proud of being gay, but I'm proud of all that I am."
This show of tolerance stands in sharp contrast to a report earlier this week of a Colorado high school cheerleader who was forced off his team due to anti-gay taunts.
Of course the conservative family groups had something to say about the unusual homecoming court. Pete LaBarbera had a warning for gay kids and adults that approve of them.
"Something that was once sort of universally regarded as a sin, is now becoming sort of cool in high school. It's easy for an adult to say, 'Oh wow, I'm doing the compassionate thing by telling this teenaged boy that he's gay,' but they won't be there when the boy becomes a man and comes down with HIV or hepititis B and C."
Unfortunately, LaBarbera doesn't seem to understand that straights can get those diseases too, and there actually are some compassionate adults out there. Just not at the "family" associations.