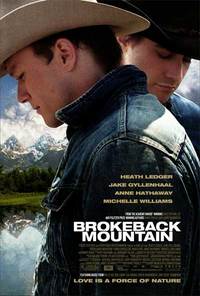 I've written so much about this movie I thought it might be good to utilize the resources I've collected and put them all in one place.
Please feel free to add your own reviews and thoughts about the movie in the comments. Off-topic and offensive comments will be deleted.

Brokeback Mountain [Official Site]


Brokeback Movie Trailer


Close Range : Wyoming Stories

[Buy the Story on Amazon]


Watch the LOGO Brokeback documentary.


Brokeback One-Sheet movie poster.

Wikipedia: Brokeback Mountain.


The Movie City News awards scoreboard (keeps track of this year's film honors).

A collection of parodies of the Brokeback movie poster.

BUY the gorgeous soundtrack featuring Rufus Wainwright, Willie Nelson, Linda Ronstadt, Mary McBride, Emmylou Harris, Steve Earle and the haunting Gustavo Santaolalla score on Amazon
or iTunes.


Buy the AUDIOBOOK narrated by Campbell Scott on iTunes.

REVIEWS

The Secret Lives of Cowboys
The Towleroad review of Brokeback Mountain.

Brokeback Mountain shines in Venice.
Report on the Venice Film festival with Variety and Hollywood Reporter excerpts.

Thoughts on the Brokeback Trailer [tr]

Newsweek: "Forbidden Territory — Inevitably, the longing and frustration, the years of repression, lead to a devastating conclusion."

NY Observer: "Chokeback Mountain — Closer to home, the tales of crusty Manhattan critics spending two hours weeping in the screening rooms are flooding the city; while at a screening yesterday a few could be heard sniffling, one of New York's most jaded reporters admitted afterward that he found it impossible to be cynical about the film—and this admission was somehow even more shocking than tears."

Village Voice "Blazing Saddles — Brokeback Mountain is the most straightforward love story—and in some ways the straightest—to come out of Hollywood, at least since Titanic."

Gary Indiana: "'Love,' an opaque if many splendored quantity, isn't much of an antidote to the kind of ignorant attitudes movies like Brokeback Mountain seem determined to change. Some people are just shits, as the wise old drag queen told William Burroughs. The more pointlessly fecund our species, the more shits we are likely to have."

New York Times rave for Brokeback Mountain: "…Both Mr. Ledger and Mr. Gyllenhaal make this anguished love story physically palpable. Mr. Ledger magically and mysteriously disappears beneath the skin of his lean, sinewy character. It is a great screen performance, as good as the best of Marlon Brando and Sean Penn. The pain and disappointment felt by Jack, who is softer, more self-aware and self-accepting, continually registers in Mr. Gyllenhaal's sad, expectant silver-dollar eyes."

MTV's Kurt Loder: "This is a beautiful movie, and a brave one — and not in a grandstanding, PC kind of way…"

Catholic News Service: "Looked at from the point of view of the need for love which everyone feels but few people can articulate, the plight of these guys is easy to understand while their way of dealing with it is likely to surprise and shock an audience."

Salon review by Stephanie Zacharek
"Brokeback Mountain" takes great pains to be a compassionate love story; but the filmmaking itself, self-consciously restrained and desiccated, is inert and inexpressive."

Film Stew by Anderson Jones
"If that's true and it's just a love story between two men, then gay people are halfway there. If two men f*cking in a tent and french kissing in Wyoming isn't gay, then same-sex unions should pose no threat. Some women aren't feeling it. I suspect that's because women are not internal creatures."

Movies Online Review by The Dude
"The film is not exploitation, and it is definitely not what people would expect. I expect there will be a lot of nervous, juvenile giggling by audiences who are uncomfortable watching a love story between two men. It's their loss, as they're missing out on a great story of love that can be applied to everyone, regardless of sexual preference."

Blog The Bloody Red Carpet gives it a thorough once-over and has "disparate feelings" about the love affair:
"One, we just loved seeing the boys rustle up some cowbooty and swap spit, and two, we hated feeling that they were justified in hiding their love. We had to step back and realize that yes, indeed this was a period piece – sadly with some present day equivalents, but still and all not indicative of a modern gay lifestyle. Rural Wyoming was probably not a safe haven for the gays in the mid 1960s. And ultimately, this film isn't about the right to self expression, it's about the inability for some men to express themselves at all."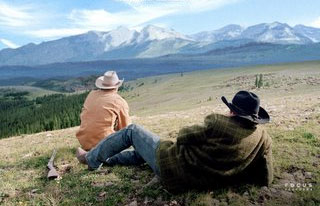 From Black Table:
"The largely gay audience I was with at first seemed to expect (or hope) that Brokeback Mountain would parody the rugged machismo of the Western genre by exposing the buried homoeroticism underneath. (It was as if some patrons saw Brokeback as a means to get revenge on that most manly — and straight — of genres.) But Lee doesn't see his homosexual lovers as revolutionaries or gay-right liberators or anything so grandiose, and he isn't here to reinvent genre clichés. In truth, Brokeback Mountain returns to the same thematic terrain as The Ice Storm — the complete and utter unhappiness that is the modern world."

From The Simon:
"In Brokeback Mountain, everyone suffers because of manly western myths, and no one suffers more acutely than Ennis. Yes, antihero Jack does meet one of the time-honored antihero ends at the hands of the vile side of civilization that simply cannot abide his "natural" identity. But our hero Ennis, our upstanding frontier man who stays close to the land but resists nature's temptations, and who wants—but mostly fails—to do right by his adoring daughters has an arguably more painful fate (and Ledger makes you feel that pain).

Oliver at Thought Not had high expectations and they were met. He says, "It may be the best movie I've seen" and gives it two big tear ups and a full sob.

Cyd Zeigler had high expectations and they were not met. He says, he was left "disappointed and virtually emotionless." But feels better about it the morning after. Ah Cyd, sometimes cinematic sex is like that.

Blog FourFour offers a thoughtful analysis: "On one hand, subverting the masculine icon of the cowboy serves to untangle homophobia from its fuck buddy, femmephobia — the lack of limp wrists and lisps surely will confront some people with a representation of homosexuality different than the one they are comfortably uncomfortable with. On the other, Ennis and Jack's wrestling that easily glides into foreplay might assault the senses of the straight guy who takes pride in his sissy jokes — depending on to what degree non-sexual, all-male physical contact hits home, Mr. Straight Man might be outraged that the concept of the rough-and-tumble buddy is being turned in its head. There's nothing ignorance hates to do more than having to rethink."

Finally, pretty much a pan from critic Dave Kehr, whose arguments are way off base imho: "Lee has yet to take a real chance with a film, and "Brokeback Mountain," despite its superficial courting of controversy, is no exception."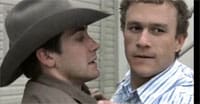 Review by Bruce Newman at the San Jose Mercury News:
"Occasionally, the cowboy roundups are bathed in such iconic imagery that they begin to resemble Abercrombie & Fitch ads, but Lee allows a beautifully minimalist script by Larry McMurtry and Diana Ossana to take the actors to the hard places they need to go. And they never fail to deliver."

Right wing site World Net Daily gives the film a resounding Bible-beating:
"As we predicted above, there are sure to be many leftwing awards for this twisted, laughable, frustrating, plotless and boring piece of homosexual, neo-Marxist propaganda. If only the leftists, radical feminists and communists would show the same compassion for the wives of homosexual perverts like these two characters, the world might be a better place. Don't count on that happening any time soon, however."

Movie critic Craig Outhier tells people to get out and see it:
"Ang Lee's 'Brokeback Mountain' has been described in various circles as 'the gay cowboy movie,' an alias both glib and faintly humorous. It suggests independent filmmaking at its most precious and contrived: Oil-rig foremen who pour their hearts into haikus, jobless steelworkers who disrobe for money. What a pleasure to find instead a spare, clear-eyed drama about the sorrow of unrequited love."

Chicago's Metromix gives the film a positive review:
"Thanks to the slow-burn passion of its leading men, 'Brokeback Mountain' maintains an elegant sadness, as love threatens to drift away like tumbleweeds. It's a gorgeous meditation on the sorrow of finding everything you want and not knowing how to keep it. Forget its Oscar chances; 'Brokeback Mountain' could be the foundation for next year's hit show, 'Queer Eye for the Marlboro Man.'"

Calling Brokeback a gay cowboy story is a "cruel simplification" says Roger Ebert:
"When he was taught by his father to hate homosexuals, Ennis was taught to hate his own feelings. Years after he first makes love with Jack on a Wyoming mountainside, after his marriage has failed, after his world has compressed to a mobile home, the laundromat, the TV, he still feels the same pain: 'Why don't you let me be? It's because of you, Jack, that I'm like this — nothing, and nobody.' But it's not because of Jack. It's because Ennis and Jack love each other and can find no way to deal with that.

Movie website JoBlo gives the film 7/10 stars: "Another cool thing about this film was that it didn't make these men-loving men the "stereotypical" over-the-top effeminate gay type, but rather simply…all-out cowboys who just happen to enjoy the company of men as opposed to the ladies (there's nothing wrong with that!)."

Palo Alto Online gives the film their highest rating: "The incessant tag of the gay Western offends; groundbreaking is more like it. Nuanced sentiment and genuine affection brand this as one of the most memorable films of the year."

Tony Robinson at Oregon's KATU tells people to go and go with an open mind: "If you can leave preconceived notions at the door, you'll find a gem. The performances are top notch and the writing and direction are equally good. It's a film that deserves to be seen and discussed, not for its controversial story, but for what it is; art."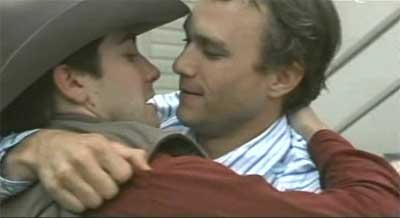 ARTICLES

Cannes "underwhelmed" by Brokeback.
The famous film fest rejects Brokeback outright.

Cowboy Ballads: Variety report on the soundtrack.

Heath and Jake's Hot Love Scene [tr]

Variety reports on Brokeback casting. Towleroad scoops Variety.

Cowboy Love – Brokeback a go [tr]

Annie Proulx on Richard Avedon's American West [tr]

The Ottawa Citizen on Brokeback's Evolution. Ang Lee: "It's a part of human nature to fear desire and to lose control, and so we begin to indulge in self-denial. Self-denial leads to darkness … because it shuts out truth, and then, you have nothing but the darkness, and regret, and the memory of what might have been. Brokeback Mountain is a romantic symbol of what we fail to attain. It's about loss. It's about fear. It's about the illusory quality of love."

Contra-Costa Times — "Accepting the new look of love".

Santa Cruz Sentinel — "Going for 'Broke': Oscar-winner Ang Lee directs a movie 'that had to be made'"
"I hate evoking anger," admits Ang Lee. Yet by mixing the most "American" movie genre — the Western — with gay themes, the director realizes this could well be the impact of his latest cinematic masterpiece, "Brokeback Mountain."

Chicago Tribune — Lee sees his `Brokeback Mountain' as a unifying force
"Heath says this is the most macho roll he's ever taken," Lee said the next day over breakfast. "But think about it, and he's right. Right after this, he went to play Casanova, where he put on makeup every day. It's not a very macho role."

The Straight Dude's Guide to Brokeback [msnbc]

L.A. Film Critics Association name Brokeback best film of 2005.

Reuters: "Gay cowboys hit U.S. screen, but no rings just yet."
"A gay cowboy movie won rave reviews on Friday as mainstream Hollywood embraced the tale of Marlboro men in love, but for most gay Americans the acceptance symbolized by marriage remains a distant dream."

Left Coast Breakdown: What Do Queer Cowboys Mean?
"I've learned as a Mormon and I've learned as a gay man, that sometimes, all we have is that moment alone on the mountain. Jack and Ennis are lucky in an untold fashion, that they had someone to share it with."

Controversial 'Brokeback Mountain' makes glitzy Wyoming debut [jackson hole star tribune]

Brokeback Premiere Packs House in Wyoming [casper star tribune]
"Moviegoers wiped back tears Saturday after the premiere of "Brokeback Mountain" in Jackson, saying it was a love story marred by pain and social pressures."

'Brokeback Mountain' turns a short story into a Hollywood first [boston globe]
"There is a solid argument to be made that "Brokeback Mountain" is the first mainstream American film to portray gay love straightforwardly — not in the context of an issue film about AIDS, not as a campy side plot, but as old-fashioned melodrama, with moony eyes and explicit sex."

Love on the Range [miami herald]
"Gay groups have understandably embraced Brokeback Mountain's themes of tolerance and acceptance, pointing out that while Jack and Ennis' dilemma is part of a much-less tolerant period in American history, the stigma around homosexuality in rural America has not diminished."

A new report on the Wyoming screening, where feelings for the movie were very positive and emotions were running high.

12.13.05 Brokeback named best film by New York Critics Circle. Ang Lee and Heath Ledger rope in directing and acting prizes. "'Brokeback' was an old-fashioned romance that also fulfilled the group's impulse to be daring and original."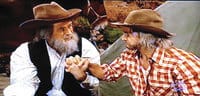 Saturday Night Live offered up two Brokeback moments on Saturday night. The first was Alec Baldwin's rather lackluster send-up called Brokeback Goldmine about two miners in love. The second was a hilarious "Weekend Update" joke supplied to Tina Fey by her dad:
"The movie Brokeback Mountain opened this week. The movie is making history as the first western ever where the good guys get it in the end."

12.14.05 The Washington Post announces that Gay Moviegoers Tip Their Hats to a Love Story> and talks about the "herd mentality" that seems to have greeted the arrival of Brokeback among gay moviegoers.

12.14.05 Big article in the L.A. Times today that asks the next logical question in the Brokeback saga. Will audiences come?
…The conservative family groups are predicting the film's demise because of lack of interest. Predicts one conservative: "'Brokeback' will not only encounter resistance, but empty theaters. My wife and I watched the trailer in a theater a few days ago and sensed an audible revulsion to two men passionately embracing and kissing on the big screen." However, the Times presents evidence that in regional markets like Tennessee and rural Texas, interest for the film is running high. A theater outside Plano, Texas, where it will open on two screens this Friday, has sold more pre-opening tickets online for Brokeback than for King Kong.

12.14.05 The Seattle Times asks the same question: . An interesting side note in their story, which retells the journey of Brokeback from page to screen, is that author Annie Proulx was actually called as a juror in the Matthew Shepard trial but didn't serve. The story was actually written before that tragedy but seems "prescient" in light of it.

12.14.05 The Boston Herald asks, "Have the Golden Globes Gone Gay?" Why, in fact it seems they have always been pretty gay.

12.14.05 I have neglected to mention that The San Francisco Film Critics have awarded Brokeback best honors as well.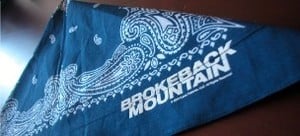 12.14.05 The sexy Brenner Thomas offers up a great piece on a Brokeback promotional handkerchief he received. Betcha can't remember what the hanky code for "navy" is…

12.14.05 Here's a news piece from FOX about how the wingnuts are all in a tizzy that the film doesn't have an NC-17 rating because it has gay themes. You know, they may be afraid people might actually go and see how much pain repression and bigotry put on people's lives. James Schamus, Focus Features' co-president said "We assumed it would be R; it was R. It was totally fair. It's an adult, grown-up movie. It's a movie I think young people could see or should see in the context of their parents talking to them about it. That's an R rating to me."

12.14.05 And here's some interesting insight into the voting behind the New York Critics Circle awards earlier this week where it seems there was a battle royale between Brokeback and The History of Violence. Outward civility prevailed, and eventually, so did Brokeback, by 4 votes.

12.14.05 Still, Brokeback isn't making everyone happy, including gay blogger Joe.My.God. who is angry that "fake gays" are playing gays: "Unlike many others, I'm not dying to see two fake gays playing "straight guys who fall in love", especially after enduring unending soundbites of these fake gays reassuring worried America that they do indeed enjoy poontang in real life. I resent that what may turn out the be the best critically received gay love movie ever, has no gay actors in it. I resent that if two gay actors had been cast, this movie would have zero visibility, regardless of its merit. I resent that America will only come to watch fake gays making fake love and I resent that casting the fake gays was the right business decision to make. And I resent that this is how it probably always will be."
Queerty responds: 12.14.05 "In a perfect world we'd like to see more gay actors playing gay parts. But sadly there are not many gay actors we can think of to choose from. And Tom Cruise is just way too old for this film. Actors do just that, act. We would not want gay actors to be limited to play only gay roles. So why would we want to limit straight actors to only play straight.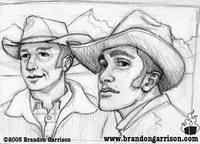 The Cult of Brokeback Begins [tr]
Superfan commissions oil painting.

12.15.05 Another must-read is Michelle Collins' hysterical narration of her trip to Chelsea to see the film. This is one of the few 'theater reports' I've read: "Of course, my friend Becca and I lurved every second of it, as we are like the Pied Pipers of Gayboys, playing our novelty dildo flutes down 8th Avenue from brunchery to brunchery, lactating Bumble & Bumble hair products, being surrounded by some of the city's hottest men, only to realize that they'd never have any interest in us, no matter how buff our pecs were to become."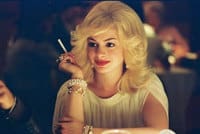 12.15.05 The Gilded Moose presents the "2005 Guide to Modern American History As Told Through Anne Hathaway's Hair in Brokeback Mountain." Well done.

12.15.05 Miles Christian Daniels of the Baltimore Sun applauds Brokeback's breaking down of stereotypes: "Now, through movies such as Brokeback Mountain, Hollywood is shedding light on the fact that not all gay men are fashion gurus, hair dressers, interior designers and superior in the arts, but that some might be – God forbid – cowboys herding sheep in Wyoming."

12.15.05 Ex-gay Stephen Bennett and his wife Irene are leading a charge of their own against the film, though they haven't seen it. Scared it might hit too close to home, perhaps. Anyway, the following dross issued from their pieholes most recently: "We are very troubled to hear this movie may contain or imply the graphic homosexual sex in Proulx's short story. Whether it does or not, many who've seen the movie are now looking "for more" and reading Proulx's short story, which explicitly contains ALL the pornographic and graphic homosexual sex one demands."

12.15.05 Egotastic gives those straight guys whose masculinity might be threatened by seeing two cowpokes in love a few good reasons to see Brokeback — female breasts.

12.15.05 Fox News says Steve Martin's statement at the Oscars that "We're all gay" has become a self-fulfilling prophecy.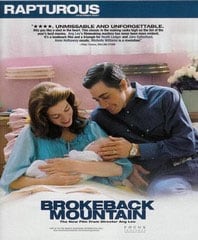 12.15.05 PunditGuy has something to say about the de-gayification of Brokeback and he just may have something. The promos he speaks about I believe are meant for industry trades in order to promote the film for Oscar consideration, and not for mainstream press, but I have to say that I've seen more than a couple and all of them feature strictly hetero star pairings.

12.15.05 David Walker of Portland's Williamette Week says that if Sidney Poitier's 1967 slap of a white man in In the Heat of the Night was a cinematic "slap heard round the world" for black civil rights, then Jack and Ennis' puptent encounter could be the "fuck heard round the world" for gay civil rights:
"During the height of what history will hopefully acknowledge as the new era of McCarthyism—when homosexuality and terrorism walk hand-in-hand much as desegregation and communism did five decades ago—there is a queer revolution going on. This new battle of gay liberation, building on the foundations laid in the aftermath of Stonewall, seeks to do more than recoup the losses incurred in recent years. What is going here is a complex issue—clouded under the rhetoric of same-sex marriage and eternal damnation—that is, quite plainly and simply, a matter of civil rights. Few people want to call it that, as if the acknowledgement of such somehow humanizes lesbians and gays in a manner they don't deserve. But the truth is that queers—much like blacks in the early part of the 20th century—are not seen as human beings. And so the struggle at hand is to be seen as humans."

David Letterman: Top Ten Signs You're a Gay Cowboy.

In the Sunday movie section of the NYT, Manohla Dargis looks at the tradition of the cowboy, masculinity in America, and Brokeback Mountain's relationship to the gay rights movement — Masculinity and its Discontents in Marlboro Country:
"Jack and Ennis embody the classic western divide between nature and culture, their lives split between the freedom of the wilderness and the restrictions of the putatively civilized world they call home. Ms. Proulx's story opens long after the symbolic closing of the American frontier and six years before Stonewall, and delineates a new frontier that will soon change the country's social and political topography: gay rights. As Ms. Proulx has reminded interviewers, Matthew Shepard was murdered the year after her story was published. In the pop-culture fantasy of assimilation, gay men and lesbians are little more than fabulous accessories for straights, but Shepard's death and the debate over same-sex marriage are reminders that this frontier remains open."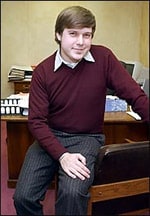 Seizing an opportunity to feel out a homo in Brokeback country, the NYT profiled Guy Padgett, the openly gay mayor of Casper, Wyoming over the weekend: "Other people said the film's gay-cowboy theme would be a bigger deal outside Wyoming than in places like Casper, because the outside world, they say, has locked in stereotypes about the state that the movie can play with and shatter. Here, they say, many people will yawn, or chuckle. Mr. Padgett, whose single term expires next month, said that he did not think there would be any backlash against gay men in Casper as a result of "Brokeback Mountain," when it eventually does play in theaters here, but that there probably would not be any positive change, either."

Monsters and Critics reports on the reaction Brokeback is getting from conservatives, who think the film will die a slow death at the hands of empty theaters (a theory already proven wrong). Diana Ossana, the film's co-screenwriter, said it's changing hearts and minds: "People come in with these preconceived notions of the film but after they see it they can't stop thinking about it. They'll tell me, 'You know, I never really thought about gay men and their lives. I always tried to avoid it, but I really felt bad for those guys. I didn't know they felt the way that we do."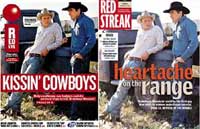 Chicagoist looks at the local papers and sees double.

The Harvard Crimson reports on Focus Features' James Schamus visit to the Harvard Film Archive for a screening of BB, where he talked about working with Ang Lee on the film: "Schamus, however, soon realized the core audience for the film would not be homosexuals: 'I said to Ang, there's one core audience for the movie; he said, 'oh yeah, right, the gay audience,' and I said, 'no, women.'' Schamus says he hopes mothers worldwide will be the voice of this movie."

Oops. You can imagine how pissed wingnut watchdog site Lifesite was when it found out the Catholic News Service gave Brokeback a positive review. They scolded The United States Conference of Bishops Office for Film and Broadcasting because of the "completely inappropriate" review of the film published by the group's wire service: "While the glowing review remains, the USCCB office's rating for the film has been altered to the most severe rating – "O" for morally offensive from "L" which denotes that it is appropriate for a limited adult audience."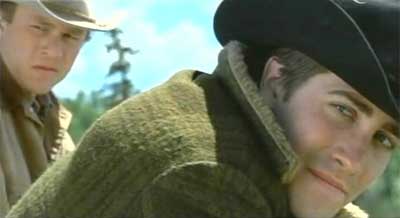 INTERVIEWS

Newsweek chats with Jake Gyllenhaal about his ass: "I respect that people are interested in that. I'm flattered by it. But I hope there are more important things in the stories that they're moved by."

The Telegraph chimes in with a meatier Jake interview: "If I walked into the make-up trailer first thing in the morning and realised Heath was being a pain because he was exhausted and I was a little pissed off with him because of that, then I would take that into our love scenes. I just decided that whatever I was feeling, I was going to incorporate the real stuff into the scenes…What's special about Brokeback Mountain is that it says that whether it's heterosexual, homosexual, if there's love, that's all that matters, and it will last, no matter how scrutinised or abused it is."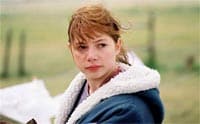 MSNBC talks to Michelle Williams about her role in Brokeback. Among other things, she tells them Heath Ledger was upset when unauthorized on-set nude paparazzi photos of him appeared on the internet:
"I know how hurt he was by it—for a lot of reasons. You feel let down by the people who are supposed to be protecting you and who are creating a safe working environment. You're aghast that there are people out there who could profit on such a private moment. The thing that's a shame about it is that I remember him coming back from that day at work. He was feeling exuberant—and enlivened. Then, to have that taken away from him. All of a sudden it was this public moment. That's just such a shame. That's such a bummer.

Ang Lee talks to The Montreal Mirror and tells them that people keep asking him how he thinks the right wing conservatives will see the film, and he's a bit tired of it: "Actually, from the get-go I was more concerned about how the gay community would see it. I mean it's a story about gay lovers, yet nobody asks me if I'm concerned about what gay people think."

Ang Lee talks to Dark Horizons:
"I think great romance needs great obstacles and textures. Romance and love are abstract ideas, an illusion. How do you make that? I think, most of the time, obstacles help build the romance. It helps to envision and make it feel real to you. I think that mixture is ultimately very interesting because they're very macho, but romance is usually soft. That strange mixture was very fresh and helped me to grope into what love is."

Heath Ledger talks to Dark Horizons:
"His love for Jack is true in a passionate love, but he hates the way he loves and it's forbidden. Essentially, he's like a homophobic male in love with another man. He's very fixed in his ways and he's left lingering in between the role."

Heath Ledger talks to the New York Daily News:
"My preparation was really figuring out what Ennis was battling. Like why did he have this inability to express and love? The conclusion I drew was that he was battling his genetic structure. He was battling the traditions and fears that had been instilled in him by his father and the generations before him."

Heath Ledger talks to the L.A. times
"It's not something that we'd searched for in everyday life. But we're pretty sensible people, Jake and I. We realized we're just two people," says Ledger. "We realized it's necessary for the story — the level of intimacy had to be portrayed to increase the level of heartache for the story. It's easy to say it was difficult and hard, but it's really awkward having to do a love scene with anyone — whether it's a guy or a girl. There's a guy with the boom standing over you. It's always awkward."

Heath Ledger talks to Time
"I don't think Ennis could be labeled as gay. Without Jack Twist, I don't know that he ever would have come out. I think the whole point was that it was two souls that fell in love with each other."

ABC TV Australia Interview with Jake Gyllenhaal and Ang Lee
Includes extended scenes not in the trailer.

Jake Gyllenhaal in Details magazine
Makes semi-controversial statement about straight guys falling in love.

Jake Gyllenhaal talks to Calgary Sun
On shooting Brokeback in Canada and playiing an intimate gay character.

Ang Lee Talks of Love on the Range
"It's really just a great American love story. I do not feel so courageous for doing it. Maybe it seems like it would take some courage, but once you're involved in it and read it and believe in it, once you get in that zone, it's a lovely, very benign love story, a sad, tragic, poignant, realistic western."

Jake Gyllenhaal in W magazine.
"It's one of the riskiest things I've done in my career. At a certain point you just take a deep breath and dive in. And then the water's freezing, and you jump out as fast as you can."

MSN interview with Heath Ledger and Matt Damon.
Heath talks: "The idea I had to make out with Jake … just wasn't the easiest thing to do. It is a beautiful story, a beautiful script. It was definitely a real sense of accomplishment once I finished. I had so much fear for the project and the story and, you know, had to be brave. I definitely came out thinking, '[Expletive], I can do anything,' you know?"

Dark Horizons talks to Heath Ledger
"Brokeback Mountain was a very lonely experience and it was supposed to be and my character was extremely lonely and I think I carried that through the whole experience."

Heath Ledger talks to Fade In magazine
"The script was probably the best one [I have] ever read…"

Jake Gyllenhaal talks to Entertainment Weekly
"I really did approach it like I would any love story. No matter how weird people might think it is or how f—ed up they might consider a certain relationship to be, if there is love there, then that's all that matters."

Jake talks to Elle magazine aobut Rough Sex
"Heath almost broke my nose in [a kissing] scene. He grabs me and he slams me up against the wall and kisses me. And then I grab him and I slam him up against the wall and I kiss him. And we were doing take after take after take. I got the [bleep] beat out of me. We had other scenes where we fought each other and I wasn't hurting as badly as I did after that one."

Heath Ledger talks to the BBC on wrangling Jake.
"What is it about wrangling Jake Gyllenhaal up in the mountains that frightens me? Just that! But it obviously doesn't scare me away because I'm doing it. Aren't we at the stage these days when it just doesn't ******* matter? It's a story of love and it's a story between two people. If people can't get over that and just accept it as a story, then that's their problem."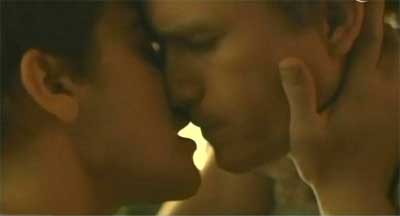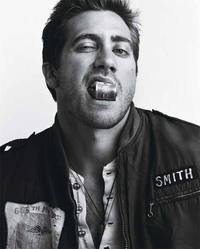 PHOTOS

Screencaps from Ellen appearance

Jake Gyllenhaal's Naked Butt from Jarhead.

Jake Gyllenhaal in W magazine.

Screenshots from Brokeback trailer.

Jake Surfs in L.A.

Jake Plays Baseball

Jake Surfs….again.

Screencaps from the Brokeback Trailer.

Screencaps from the Brokeback Teaser Trailer

319 high quality Brokeback screencaps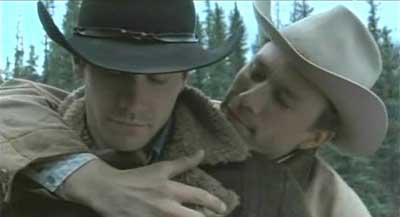 GOSSIP

Brokeback poster vs. Titanic poster.
James Schamus on poster design…

A fake tourist initiative from Wyoming Dept. of Tourism.

Report: Larry McMurtry and Ang Lee Feud on Set [tr]

Heath and Jake's Hot Love Scene [tr]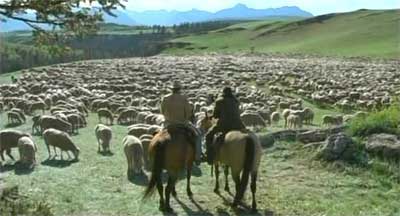 CONTROVERSY

Couple demands money back from school after demands to drop Brokeback from reading list are not met.
FAN SITES

IMDB Message Board on Brokeback.

I Heart Jake [jake gyllenhaal fan site]