I headed down to Key West from Miami with my boyfriend Dave just after Thanksgiving. I hadn't been to Key West in eleven years. I was hoping, above all, to just relax, so last Monday we headed down to stay with our friends Jon and Martin at the Island House. I'm always up for a good road trip, so I was looking forward to the drive down, much of which is on a two-lane highway. If there's a car accident along that stretch, as there was the first time I drove down years ago, you're seriously screwed and may spend a few hours idling on the road while they clean it up. Above, our first (sort of) sunset as we approached Key West on Highway 1.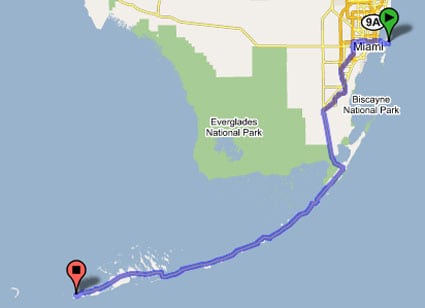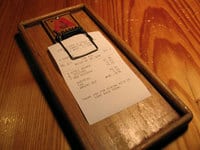 Pepe's is my favorite restaurant in Key West. It's also the oldest. It was opened in 1909 (and looks it) and its rickety wooden walls are filled with old Key West memorabilia, photos and maps. One wall is painted with carnival masks through which you can peer, and the bill is served on a converted mousetrap (above). Perhaps that's a message that they (or the preponderance of cats) have done away with any rodent problem. The food is delicious, so I'd recommend at least stopping in for some oysters on the half shell if you get a chance. (MAP)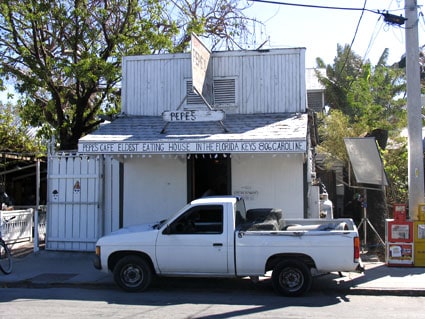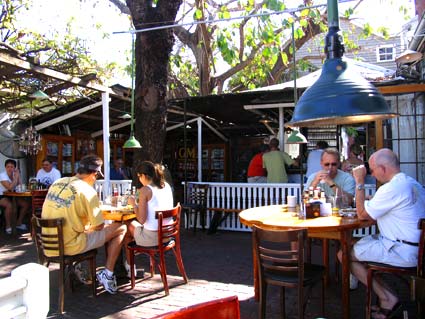 The brunch crowd last Thursday at Pepe's…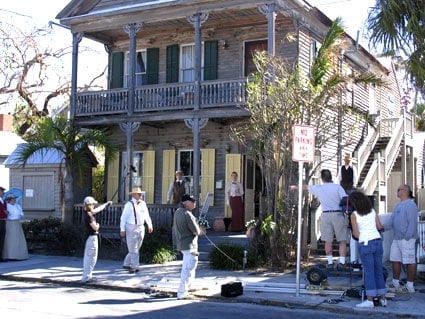 A period film shoot was going on next door. I think I saw Reese Witherspoon run out on the balcony and scream "the gays are being driven from Key West!" But then again, it could have been my imagination.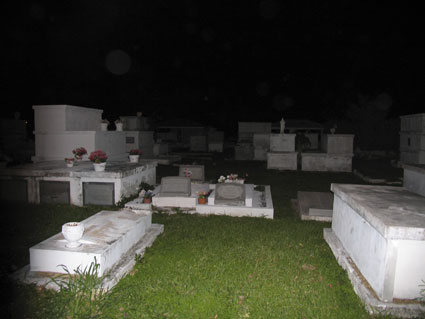 Walking toward downtown one night Dave and I stumbled upon the Key West cemetery, gridlocked with above-ground tombs. Walking beside it late at night is an eerie experience as many of the pretty wooden houses on Olivia Street seemed either boarded up or abandoned.This is some of Key West's higher ground (the cemetery was moved here in 1847 after a hurricane disinterred most of the graves in its earlier location). It has an interesting history, which can be read about here. Among the more humorous tombs are one which reads "I Told You I Was Sick."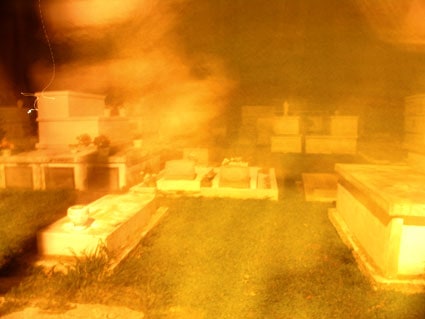 I only actually remember taking one shot of the cemetery, so you can interpret this shot (which showed up on my memory card unexpectedly) any way you want.On a side note, right after we walked by the cemetery we passed Seven Fish, a restaurant we wanted to try but couldn't because the night we wanted to go they were holding a private party (MAP). It looked great though. When we passed Seven Fish this night, the Real World Key West cast were eating there while their very hot crew waited outside. I think the new season starts soon. I've already seen ads for it.We ended up eating at a great Italian place on Duval Street called La Trattoria (MAP).
My boyfriend Dave checking out a biopic at the (roped-in) Tropic…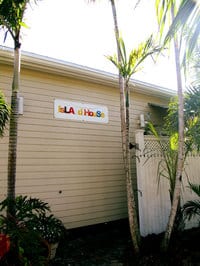 Dave and I stayed at the Island House, a clothing-optional guesthouse that has supported Towleroad for many months. I'm happy to say that even if they weren't staunch supporters of this site I'd give them a first class rating since most gay guesthouses I've been to in the past have been sorely lacking in a lot of areas. Great service, a masculine, comfortable room (that's ours below) with feather mattresses, warm clean outdoor and indoor jacuzzis, a gym, and a spacious pool surrounded by a delicious restaurant and bar. I'm not the clothing optional type but felt totally comfortable here (in my swimsuit) and the staff is great (thanks Alan!) The attention they pay to detail is really commendable, and the broadband wireless internet access that blankets the entire property is a huge bonus in this blogger's book! (MAP)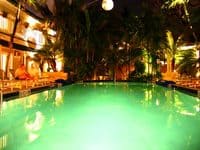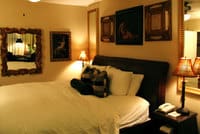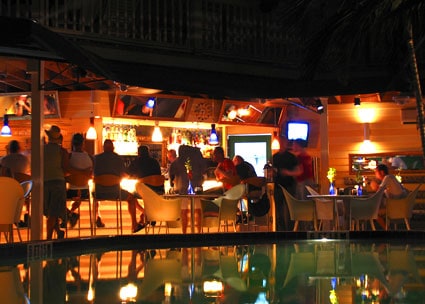 The Island House also has a free happy hour for hotel guests every evening for an hour and a half so you can get your night started…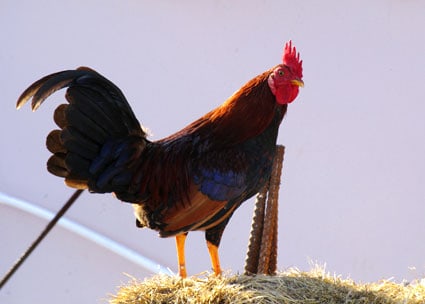 If anyone tells you that it's hard to find cock in Key West, don't believe them. These things are everywhere, and they're loud. This is the same rooster in passive (above) and active modes.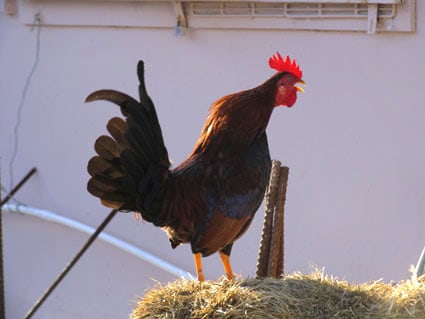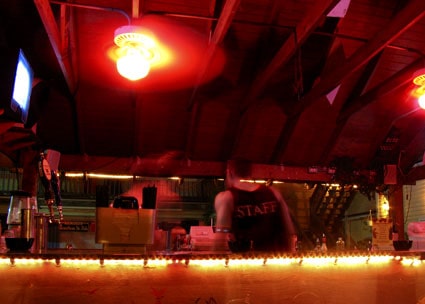 Bourbon Street, Kwest, and Aqua are the big spots to hit on Duval Street and don't seem to be experiencing any lack of activity even during the middle of the week. The Bourbon Street complex is currently expanding beyond its borders. Now, instead of a mega-complex, I suppose it'll be a super-mega-complex. Sushi the drag queen drops in a high heel pump here on New Year's Eve, an event, as I remember, Anderson Cooper has not neglected to cover on CNN. (MAP)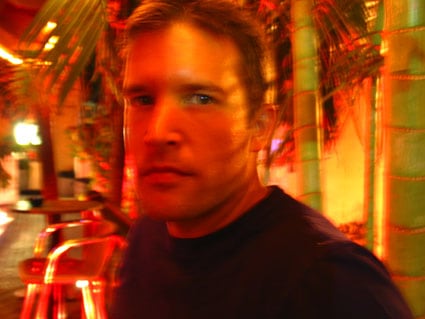 The glazed look I get after downing several shots of Jagermeister.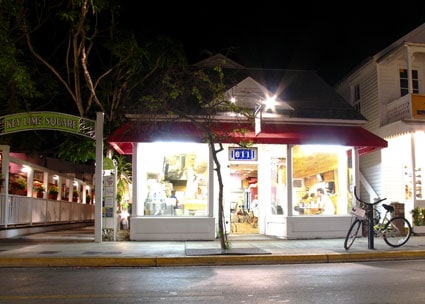 Duval Street late at night. Don't forget to eat some Key Lime Pie while you're here. I prefer the kind covered in chocolate on a stick at the Blond Giraffe.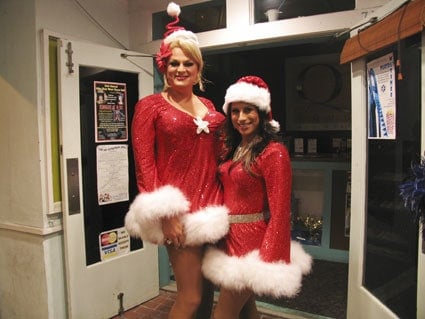 A pair of Santa's helpers outside Aqua nightclub on Duval Street. (MAP)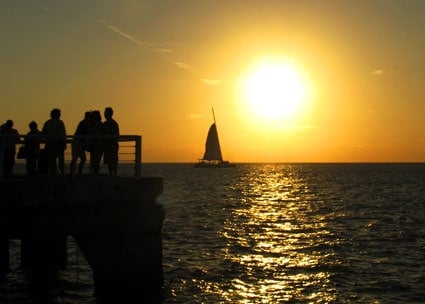 Mallory Square (MAP) is the traditional sunset viewing spot in Key West but I'm a bit turned off by the tacky souvenir shops and cruise ship day trippers. I'd recommend one of the sunset cruises, which we did (more below). That said, a gorgeous sunset is hard to complain about from any vantage point.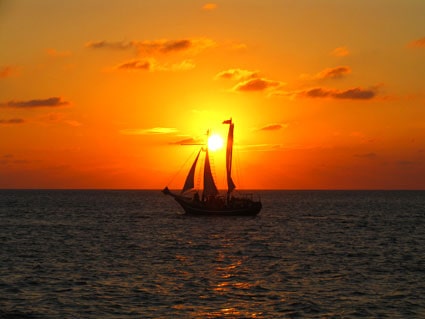 Another shot from Mallory Square.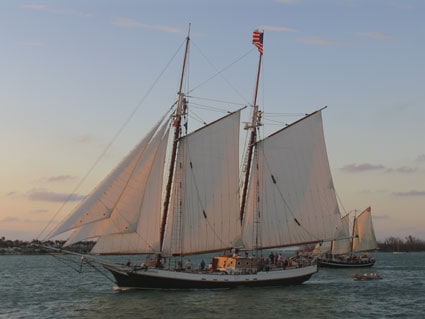 Here's one of the boats you can take out for the Sunset Cruise, but you might want to do what Dave and I did and take the Blu Q, a catamaran with an all gay crew.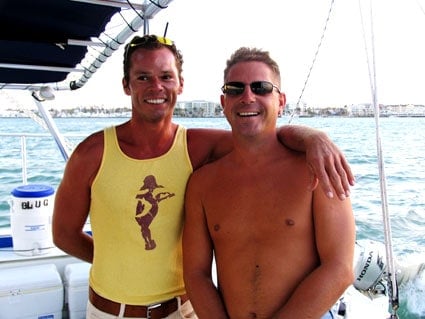 Here are two of the Blu Q's crew, First Mate John and Captain Scott (right). In addition to just standing around looking sexy, they really do know how to sail a catamaran. They'll take you out and give you good sunset.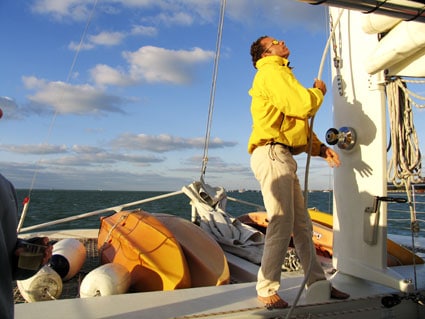 Here's John pulling up the sail.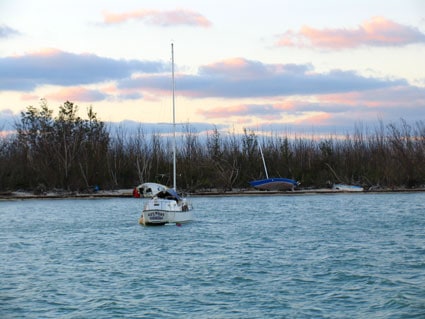 On the far shore you can see some of the sailboats in the KW harbor that didn't fare too well during Hurricane Wilma. Not exactly where you want to see your boat parked.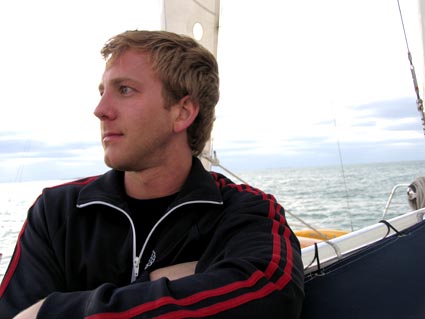 The object of my affection.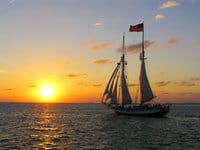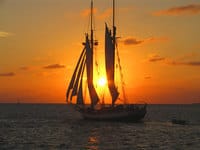 If you're lucky, your voyage will end like this.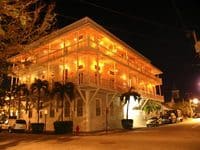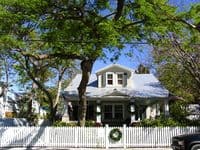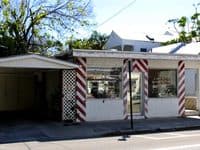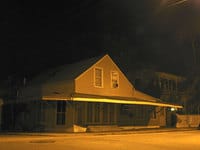 Key West architecture is mostly ordinary, and mostly charming. There is plenty to talk about here, but these are just a few structures that caught my eye during our trip. I tend to gravitate toward things that are lit interestingly or have a damaged, antiquated charm about them. One place I'd also suggest visiting, which I didn't get to this time, is Ernest Hemingway's house, still very much the way it was when he lived here. Its grounds also house a huge number of housecats which may interest you or not, depending on your allergy situation.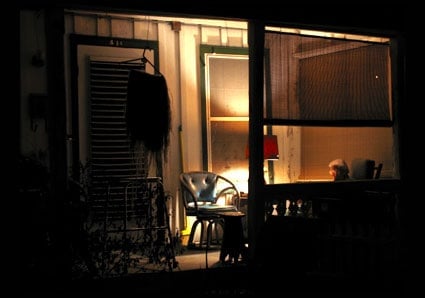 One tropical night we came upon this old lady reading on her front porch. She was so perfectly framed in her peaceful island of light I wish I could have summoned Edward Hopper back from the dead to paint her.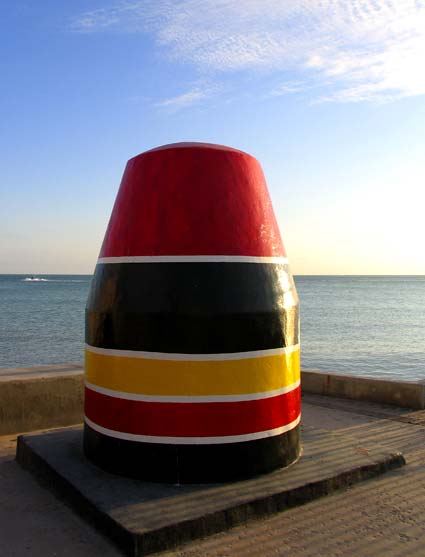 Here's another shot of the Southernmost Point marker, which locals refer to as the Southernmost Buttplug. It's usually surrounded by tourists wanting a photo.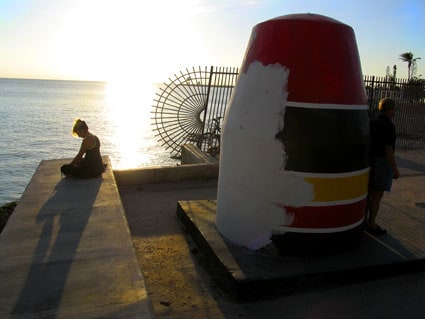 Here you have a local practicing her yoga on one side while a tourist poses for a picture on the other. I guess that symbolizes fairly well how the transients and the locals share this beautiful place. One other note. As you can see, they seem to be in the process of repainting the marker. I'm not exactly sure how frequently that happens but it usually has "southernmost point" painted on it, just so people know they're not posing for a photo with a giant…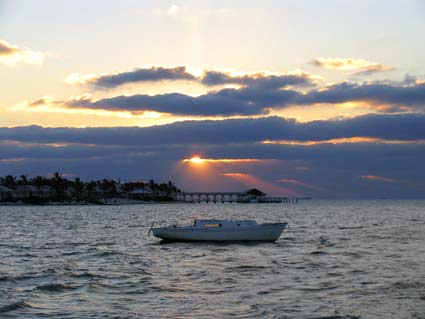 Dave and I had a great little trip, short as it was. A few weeks ago there was an article in the NYT about how Key West was slowly being de-gayed due to rising real estate prices. While gentrification is obviously taking place, to me Key West seemed just as gay as I remembered, and definitely very friendly. We left just before the beginning of Fantasy Fest, which was moved this year due to the hurricane. I can't wait to make another trip. A special hello to those we met down there and a thanks to Stephen Smith from the Gay and Lesbian Center of Key West, which is a great resource (MAP) for LGBT travelers heading down to visit.