Jacob Robida, the suspect in the New Bedford gay bar attacks, has died of multiple gunshot wounds in a Missouri hospital, hours after being apprehended during a police shootout in Norfolk, Arkansas.
Unfortunately, the shootout resulted in the death of a police officer and a woman accompanying Robida. Robida has been transported to a hospital in Springfield, Missouri.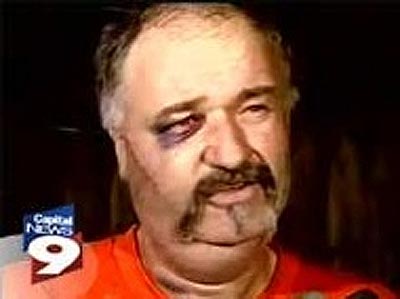 Paramedic Robert Perry, the first victim of the attack at the Puzzles Lounge in New Bedford to come forward, spoke to news outlets today and painted a terrifying picture of the event. Perry suffered a hatchet wound to the face and a bullet wound to the back. The attacker, 18-year-old Jacob Robida, remains at large.
Said victim Robert Perry:
"I heard a gunshot, I felt the sensation in my back, I smelled the gunpowder, and I'm like, I think I've been hit. What was going through my mind is that I was going to die soon. This is the end. I knew I was going to die… I was afraid he would come back and hit me again and finish me off. My whole life I've dealt with issues of tolerance and I've struggled with this… I just wish people would understand that we're not bad people. I don't understand the hate. I've never been in a fight in my life. I don't know anything about hate and I don't understand where hate comes from."
Previously
Meet New Bedford's Dr. Jekyll, Jacob Robida [tr]
Police Identify Suspect in New Bedford Attack [tr]
Sicko on the Loose in New Bedford Attack [tr]