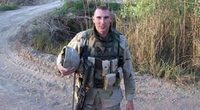 Jeff Howe, a soldier in Iraq who posted photos of his unit's enemy-damaged truck on his blog at the request of his commander, became the subject of a background investigation by the military because a higher-up brigade commander thought the posted photos might "hearten the enemy." The background investigation was launched to see if Howe had terrorist ties.
During the investigation the military found an online profile which identified Howe as gay. Howe had previously kept his sexuality a secret because he wanted to serve his country. Once the online profile was discovered, Howe, a soldier decorated with commendations (Army Service Ribbon, the National Defense Service Medal, the Global War on Terrorism Service Medal, the Army Commendation Medal and the Fort Riley "Blue Chip Soldier" Award), found himself in the process of being discharged.
With priorities like these, no wonder we're losing this ridiculous war.
Howe's full story, Outed in Iraq, is at Raw Story…