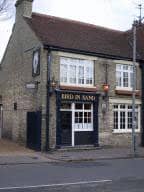 Two teenagers, 17 and 18, have been arrested in connection with a gruesome attempted murder after they allegedly followed a 24-year-old man home from the Bird in Hand pub in Cambridge, England. The victim was "repeatedly knifed in the back and shoulders in the doorway of his home."
The victim, who spent the night drinking in the pub and then reportedly left with the two teens, is in stable condition at a local hospital. Police found the visible signs of a struggle, including blood and a knife in the area near the victim's home.
The Bird in Hand and another nearby pub, the Fleur de Lys, are primarily gay venues. An officer investigating the crime has said that it appears the victim was singled out because he is gay.
Teenagers Held After Stab Frenzy [cambridge evening news]