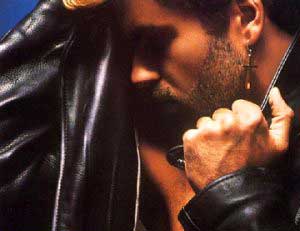 The British 80's gay pop establishment are being taken down one by one on drug charges.
Found slumped semi-conscious in a Range Rover at Hyde Park Corner at 2am, George Michael appeared "dazed" when the police found and questioned him, before discovering GHB, cannabis, and an assortment of sex toys.

A witness told The Sun tabloid: "George was completely out of it — he was all over the place. He was found with his head slumped against the wheel. No one could rouse him. He was virtually unconscious. When the police came he could hardly speak."
Michael was arrested, taken to the West End Central Police Station and examined. He was deemed fit to drive but the drug possession charges aren't going away soon.
Approximately eight years ago, Michael was arrested by an undercover police officer in a public toilet in Beverly Hills for lewd conduct, for which he served 80 hours of community service.
Last November, Michael announced plans to marry his longtime partner Kenny Goss, who was not on the scene at the time of the singer's arrest.
George Looked Out of It [the sun]
George Michael is Found Slumped in Car with Drugs [independent online]