ACLU files lawsuit accusing West Virginia police chief of stopping rescuer from performing CPR on a man because "he assumed the ailing man had HIV and posed a health risk." The man, Claude Green, died of a heart attack. ACLU attorney: "He was simply a gay man in Welch, West Virginia, and because of that we can only assume that Chief Bowman assumed he had HIV and it was unsafe to even touch him."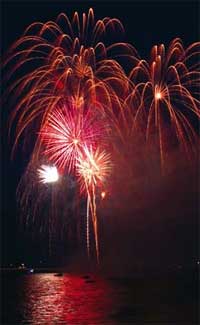 Provincetown fizzle: no fireworks on the 4th of July. Last year the town struggled with violent brawls because of the crowds of out-of-towners that traveled up the Cape for the day.
(thanks brenner)

Interesting Outsports factoid about the use of football footage in Brokeback's Thanksgiving dinner scene. Apparently producers were denied footage from the NFL so the football game on TV was of the Canadian Football League. While Producer Dianna Ossana implied that it may have been anti-gay sentiment that caused the refusal, the NFL's explanation seems rational.

SICK: Cape Cod trial revealing ugly details of a murder fueled by meth use. Nathaniel J. Miksch has pleaded innocent to the murder of Timothy Maguire, whom he allegedly strangled and stuffed in a bedroom closet. According to reports, Miksch then went online to arrange for some anonymous sex which he had later the same weekend while Maguire's body was still sitting in the nearby closet.

Over 1,000 gay couples have married in Spain since it became legal.