One of these men says he's too gay, one says he's not gay, and one says he's not gay enough. My guess is you can figure out who said what. Answers after the jump…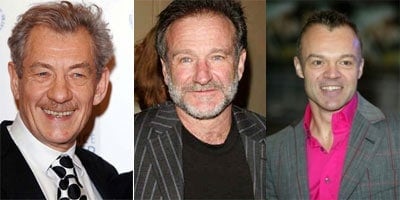 Graham Norton says in a new documentary that he's sick of producers who tell him to pile on the flamboyance: "I am surrounded with scores of straight producers making sure I am as gay this week as I was last week." For Norton's next gig, he'll host a reality show called How Do You Solve a Problem Like Maria? in which contestants vie for a chance to star as Maria in an upcoming West End production of The Sound of Music. For which I'm sure he'll be asked to be absolutely butch.
Robin Williams says he's not gay and wants to meet all the men who say they've slept with him: "There are many websites that will go, 'Oh, he is gay – I know he is gay.' Even our chef, who is gay, was at a gay ski lodge, and some guy came up to him and said, 'Robin Williams is gay. Oh, I know he is. I know people who have been with him.' They should tell me, because I don't remember." For the record, I've never thought Williams was gay, but I am looking forward to his upcoming role as a gay late night radio host in Armistead Maupin's The Night Listener.
Ian McKellen wishes there had been a homoerotic subplot for his character Magneto in the forthcoming X-Men — The Last Stand: "He hasn't been given a love line, which I think is a pity. It would be wonderful if the camera hovered over Magneto's bed, to discover him making love to Professor X."