Actually, that should read Silence vs. Bigotry. Today, half a million students at 4,000 schools nationwide are participating in the Day of Silence, taking a vow not to speak in order to bring attention to the bullying and harassment that LGBT youth face in schools. At the end of the school day, Breaking the Silence rallies are going to be held in most of the schools where students, teachers, and parents can talk about this serious issue. GLSEN has been holding this event for 10 years now. Many people have noted that silence does nothing to spread the word about a problematic issue but I think these Breaking the Silence rallies are a great idea. Bravo to the students involved today.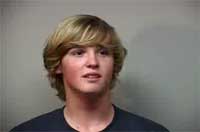 Of course, another event has sprung up to do battle with the Day of Silence, and they call it the Day of Truth. The Day of Truth will occur tomorrow, and Christian students and "former homosexuals" will wear T-shirts and pass out cards with this message: "I am speaking the Truth to break the silence. Silence isn't freedom. It's a constraint. Truth tolerates open discussion, because the Truth emerges when healthy discourse is allowed. By proclaiming the Truth in love, hurts will be halted, hearts will be healed, and lives will be saved." Of course, their "truth" is a lot different than everyone else's.
And who is the poster child for this Day of Truth and for young bigots everywhere? Why, it's Tyler Chase Harper. If you'll remember, he's the one who wore the "Homosexuality is Shameful" T-shirt to Poway High School near San Diego and inspired a court case that looks headed to the SCOTUS.
Bigotry starts at an early age, but thankfully, so does tolerance.
(thanks to kitten for the harper tip!)