We're back with a gizmotastic update of the latest wired news from our fearless correspondent Daniel Williford.

Internet telephone provider Skype announced that they will sell a selection of Madonna songs as ring tones before rolling out a catalog of thousands more ring tones licensed from major artists. The announcement comes after the leading VoIP service struck a deal with several major recording labels to sell their artist's songs. Of course, by the time you hear your favorite part of "Vogue" your caller may have hung up on you…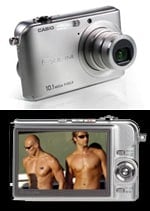 Casio's latest point-and-shoot digital camera, the Exilim Z1000, packs a whopping 10 Mega-pixel resolution, a big, bright 2.8" LCD viewer, and an impressive digital zoom for a measly $399. If the image quality lives up to the specs, this is a bargain for a super-sweet digicam. Available in June. [via pcmag]

Yahoo recently released free software that allows users to record television onto their computers for viewing any time. The surprisingly aggressive move puts Yahoo in competition with Digital Video Recorder manufacturers like Tivo and with operating systems like Windows Media Center. As with iMac's FrontRow, the software also enables users to view digital photos and listen to music through their televisions. The software currently works only on Windows, and requires a minimum set up of 20GB storage space, 512MB of RAM, a 1Ghz processor, and a TV Tuner card. More info and download instructions at Yahoo Go.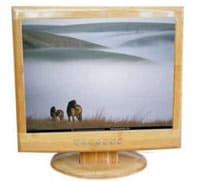 If your plastic computer monitor is ruining your Feng Shui, you'll definitely need the element of nature provided by this bamboo-encased flat-screen. Soon to be available in 15, 17, and 19-inch models at Playengine.co.uk. (via treehugger)

Hotmail will soon be dead. Hotmail's 200 million monthly users can now switch to the free e-mail provider's long-overdue upgrade, which will be re-branded as Windows Live Mail. The interface is far cleaner and apes that of Microsoft Outlook. New features include the ability to read e-mail in a "preview" pane and the option to customize the color scheme. I like pink, myself.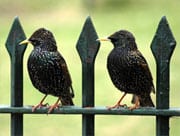 A new study shows that songbirds may be able to learn basic grammar — high-language skills long thought to be specific only to humans. "Starlings learned to differentiate between a regular birdsong 'sentence' and one containing a clause or another sentence of warbling." Phase two of the experiment will be to teach male starlings more masculine vocal techniques and mannerisms, which will later be shown to have always existed "naturally" as a mechanism of procreation that scientifically justifies the hegemony of heterosexual norms.

Apple releases its latest Intel laptop: the big 17" MacBook Pro. While Apple has been a bit slow on releasing goodies to its legions of Appleholics (here!), notes from a recent shareholders meeting revealed that big things may soon be coming from the company. In his cryptic way, Steve Jobs "told investors to potentially expect an Apple DVR as well as but he kind of said it in this sly, annoying way that made us think this thing will come out in 2078 alongside the touchscreen iPod and the 40-inch MacBook Pro++. When one shareholder asked for the DVR, Jobs said: 'We hear you loud and clear.'"

The browser war is in full effect. Not only will Windows Live applications, which will soon be ubiquitous as users upgrade to the next version of Windows, not be available on non-Internet Explorer browsers, but Microsoft has now launched the new-and-improved Internet Explorer 7 Beta for XP users. FireFox supporters retaliated with a new site called Explorer Destroyer, which encourages website developers to ban Internet Explorer users from viewing their site. The group also promote's Google's incentive program that pays websites if their users download FireFox. "Mozilla built us a wonderful tool. Google gave us a carrot. Now take the stick and beat IE's ass."
Daniel Williford is Towleroad's tech correspondent and writes his own (not necessarily tech) blog, Until Today. Stop by and check it out!