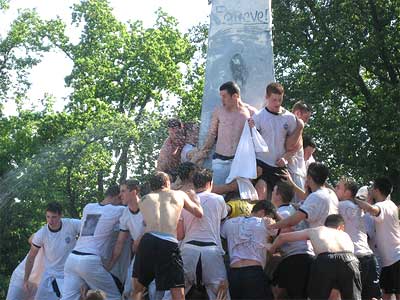 You know spring is here when the Navy plebes break out of their clothes and climb the greasy phallus obelisk at the U.S. Naval Academy. DC Blogger Chrisafer is always there to document it, and he doesn't let us down last year, though I will say I think that last year's crop of plebes were definitely bigger show-offs.
And here's a YouTube video showing the final moments of this year's event.
And one from a previous year, showing the mania that ensues when the event begins.
This event might be a little brother companion to Navy Seal training.
Previously
Smells Like Team Spirit [tr]
Wetter, Greasier, Fleshier [tr]