The Palm Beach School Board is defending blocking the websites of GLAAD, PFLAG, Gay-Straight Alliance Network, and Out & Equal Workplace Advocates, along with other sites that promote violence, racism and pornography. Yet sites like the American Family Association, Focus on the Family, the Traditional Values Coalition and the National Association for Research and Therapy of Homosexuality, are all viewable. ACLU lawyer: ""If their blocking software prevents kids, particularly middle and high school kids, from having access to information about gay rights and public health issues, but on the other hand allow access to religious group Web sites that are hostile to gay and lesbian legal rights and public health, that constitutes censorship."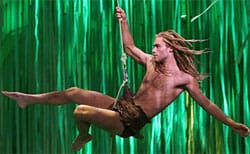 He's a swinger: Film Experience brings us an illustrated history of Tarzan.

Closeted gay man suing Nashville cops after he says he was targeted on Gay.com and then arrested with unnecessary force: "The man, identified only as 'John Doe' in a lawsuit filed in federal court Monday, claims police used excessive force in arresting him without probable cause. He said he was shocked repeatedly with a Taser gun and kicked in his arms, ribs and back. A closeted homosexual who doesn't want his name used, John Doe seeks unspecified damages from Metro Government and the officers."

Our friend Trent over at Pink is the New Blog gets called out by Lindsay Lohan on TRL…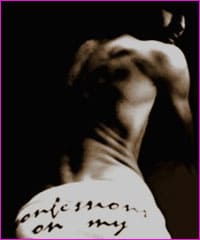 Clothing co. celebrates Madonna tour with "Confessions" tighty-whities.

Elton John stuns a nation by saying "wanker" at tea time: The veteran star was appearing on The Paul O'Grady Show to celebrate the first anniversary of the Billy Elliot musical, for which he wrote the music. But he shocked some onlookers with his candid answer to a question posed by one of the musical's young stars about his unusual middle name. Sir Elton revealed the answer was Hercules, joking his real name of Reginald Kenneth Dwight had made him sound like a 'banker … or a w***, one of the two'. As show host Paul O'Grady looked a little stunned, he added: It wasn't going to be Gladys, was it?'"

Ian McKellen says he'll be a presence at Oxford Pride this year: "Whenever gay people gather publicly to celebrate their sense of community, there are two important results. First, onlookers can be impressed by our confidence and determination to be ourselves and second, gay people – of whatever age – can be comforted by the occasion to take the first steps towards coming out and leaving the closet forever behind. I send my love to all members of Oxford Pride, their sponsors and supporters, of which I am proud to be one."

UC Santa Barbara throws 16th annual Queer Wedding on the steps of Storke plaza. Vice Chancellor for Student Affairs Michael Young : "It is important to physically demonstrate support for the gay, lesbian and transgender community. Human rights are human rights – you either believe in them and stand up for them, or you do not."