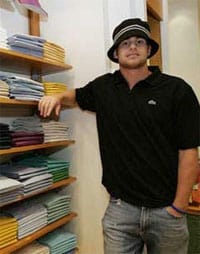 Andy Roddick is searching for his mojo in Rome at the Internazionali d'Italia, but today's news is that he's started a blog.
So what intimate details will we learn about Roddick as he explores this medium?
Not much it turns out, but what we do know is that he's slightly obsessed with basketball, loves the Miami Heat, thinks Kobe Bryant is the best player out there, and is sad he can't watch the games while he's in Europe.
He also loves bufalo mozzarella cheese and the band The Fray. Thrilling, right?
We'd love it if he would use this space to feed our Roddick obsession and throw out a few sexy shots, but I doubt that's gonna happen. Like a good Lacoste sponsor, he's used his first entry to shill his pet crocodile.
Previously
Andy Roddick Down Under [tr]
Roddick's Mojo a No Show [tr]
Has Anyone Seen Andy's Mojo? [tr]
Gator Aid [tr]
The Biggest Tease in Tennis? [tr]
Hell Tumble 4 Ya [tr]