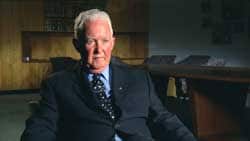 Australian former Chief Justice of the Family Court Alistair Nicholson has spoken out for the rights of same-sex parents following passage of a law by that country's Capital Territory allowing gay civil unions:
I just don't see why same-sex couples should not be able to receive the same freedoms and rights as other people – and I don't see why their children should be discriminated against, either. There is no formal recognition of it (gay relationships) in the law, which I think is an act of cruelty both to them and to the children. It seems to me people are forgetting the children in all this equation … (and) the important thing for children is loving parents. It is highly likely that children would be much better off in a homosexual relationship than a heterosexual relationship that is not a good one."
And heaven knows there are plenty of the latter.