Survivor Richard Hatch sentenced to over 4 years in prison.

It's all very serious: Power walking with Ryan Philippe.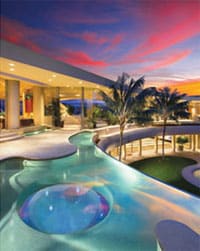 Shell it out: $75 million private oceanside home goes up for sale in the OC. Designed like a Nautilus shell, the home features "a two-story grotto with a pool, two spas, a swim-up bar, tunnel slide, poolside lounge room and barbecue area. It also boasts an 'entertainment level' basement with a bowling alley, art deco theater, automotive museum, café and full exercise facility."

The "world's first supermodel" Janice Dickinson is nothing if not opinionated. She spills a few gems in this interview with The Book Standard. On a couple of her attractions: "I love Ellen DeGeneres. . . . It's not whether she's a man or a woman. She just has sexual energy. She connotates sexual energy. And what's wrong with that? Nuthin'. Ellen DeGeneres is hot. She is muy caliente. It doesn't matter if she's a guy or a girl. I don't care. Next… John-John Kennedy was . . . I had a blind date with him. You didn't remember I was macking on him on the bubblegum machine at Studio 54, outside the ladies' room. John Kennedy was hot. But all I could think of during our blind date was Jackie O's pink blood-stained Chanel suit. You know, during the assassination of his dad. So, I mean, that's not cool. All I could think of was Chanel and clothes. Oleg Cassini and clothes." (via gawker)

Queerty is on another big gay road trip. Follow their blogger Frank as he visits Chicago and beyond!

Queen plans "flamboyant" romp for Freddie Mercury's 60th birthday.