Fashion trends: Bowling for Princes.

Win a pair of tickets to a party at David Beckham's Hertfordshire mansion…

Father Knows Best: "They are, in my view, the most insidious of traitors." Americans United for Change is releasing a 30-second spot tomorrow featuring George W. Bush and former President George Bush talking about how they feel about leaks of classified information. Watch the ad by clicking here (WMP). For Quicktime click here.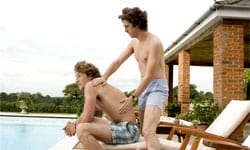 Adaptation of Alan Hollinghurst's The Line of Beauty starting this week on the BBC. Screenwriter Andrew Davies: "It was fun to explore trivial details of the Eighties – the short shorts, the body-hugging Speedos, the square shoulders of power-dressing, the brick-like mobile phones, the great music (Stranglers, Van Morrison, etc) but at a deeper level, this was the decade when corporate greed became acceptable: the confident, sleaze-filled years of the Thatcher administration. And Thatcher-worship, too. Strange to remember those days when it seemed like she would be there for ever. The sad thing is that in a lot of ways it feels like we are still living in that greedy, dog eat dog decade."

Mitt Romney shows his true colors; both a flip-flopper and a bigot.