The fashion plates have been flying off the presses this week. The one sure to cause the most discussion is this hysterical Jean-Paul Gaultier rendition of a Saturday Night Fever-inspired costume for Madonna's Confessions Tour where the French designer imagines Madonna in her best Tony Manero drag. Hopefully it comes with a light up dancefloor. More designs for Madge's tour are available here.
I've flanked Madonna Madero with Giorgio Armani's off-the-pitch designs for England's World Cup footballers. According to Hello!, " The soccer stars will be measured for their classic navy blue wool suits in the next two weeks. They'll wear the bespoke outfits with flowing white shirts, light blue ties, brown belts and brown leather shoes. Each player will also receive a casual-wear trousseau of blue trousers and polo shirt with grey pullover as well as cufflinks personalised with their shirt number, wrap-around sunglasses and a divers' watch. They are also to be presented with the Italian designer's favourite accessory, a clutch bag, for all their essentials."
Said Armani: "Football players are the new style leaders and they are very different to movie stars because they have to display a marked physical and mental discipline that makes them truly heroic."
Isn't that just a fancy way of saying they're really hot.
Dolce & Gabbana agree. They'll be dressing up the Italian team, since they've already dressed them down.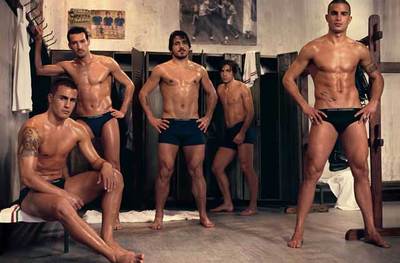 Previously
Olympic Torch Ceremony or Gay Wedding Procession? [tr]
Sportrait: Italian Footballers [tr]