Two gay men found murdered in Delhi, India: "The bodies of Akhtar Afindi and his partner Jamshed Alam were found in the kitchen and bathroom respectively of their Shahin Bagh residence, police said. 50-year-old Afindi was an insurance agent with private firm, police said. The two had been last seen on May 8, police said, adding that the bodies were discovered after neighbours complained of a foul smell emanating from the house."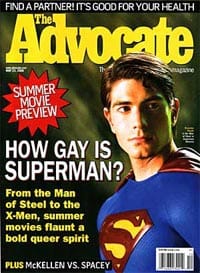 Without rubber nipples and an over-sized codpiece, just how gay is Superman?

Illinois Governor Rod Blagojevich calls for review of Illinois Air National Guard's discharge of staff sergeant of 13 years: "The Guard acted because of a criminal complaint, later proven false, from a mentally ill man and because he had a profile on the Web site gay.com, he said, and neither should be enough to trigger a discharge."

Australian Capital Territory passes law allowing gay civil unions. Peter Furness, national convener for the Australian Marriage Equality: "This is a very significant step forward in our push towards full legal equality under Australian law. Couples from around the country can also now receive formal recognition and can celebrate their love and commitment in a civil union ceremony sanctioned and approved by the state."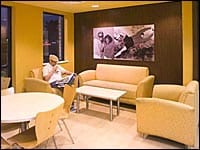 McDonald's is getting a design makeover: "The dining area will be separated into three sections with distinct personalities. The 'linger' zone will offer comfortable armchairs, sofas, and Wi-Fi connections. 'The focus is on young adults who want to socialize, hang out, and linger,' says Dixon." Hmm.

Ben Affleck is on daddy duty. Definitely a DILF.