Gay Men of African Descent plans protest outside East Harlem barebacking party. Executive Director: "I'm sick of 18-year-olds coming in here HIV-positive. It's got to stop. We want to send a strong message to (the party's promoter) and promoters like him that it's unacceptable, and to the larger community that we're not all complicit in this behavior. We're not just idle bystanders."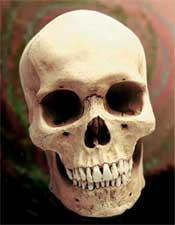 Damien Hirst preparing world's most expensive artwork, a diamond-encrusted skull: "I just want to celebrate life by saying to hell with death.What better way of saying that than by taking the ultimate symbol of death and covering it in the ultimate symbol of luxury, desire and decadence? The only part of the original skull that will remain will be the teeth. You need that grotesque element for it to work as a piece of art. I want people to see it and be astounded. I want them to gasp."

An American Idol stylist on Mandisa, Paula Abdul's outbursts, shopping with the contestants, and Ryan Seacrest's sexuality.

San Francisco's annual Bay to Breakers run was as freaky as ever!

Blind or gay: Analysis of a news anchor's on-air slip-up.

Teachers in Scotland given the go-ahead to discuss how gays and lesbians can protect against sexually transmitted diseases, how to access gay-oriented sexual health services, same-sex crushes, and the laws on consent. Naturally, the church is infuriated.

Stripper Dita von Teese was also involved with the sizzling Chad White/Steve Klein L'Uomo Vogue shoot I posted about last week.