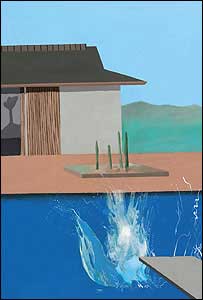 The market for 20th-Century art continues to be hot, hot, hot.
Sotheby's recently announced the auction of this minimalist David Hockney work and gives it an estimate 56% higher than the record for any previous work by the artist.
"The Splash", one in a trio of works by Hockney depicting a swimming pool just after someone has entered the water, was once owned by David Geffen and is expected to go for $5.6 million when it is auctioned on June 21.
Acccording to Sotheby's, "'The Splash' last sold at Sotheby's London in 1973 for 25,000 pounds and joined Geffen's collection in Los Angeles in the late 1970s. The painting would achieve a 120- fold rise in price in 33 years if Sotheby's reached its top estimate in the June sale." Sounds like a good investment to me.
The painting's companion pieces, "A Bigger Splash" and "A Little Splash", are in London's Tate Modern and in a private collection, respectively.
Previously
Big Bucks for Turner [tr]
The Pond — Moonlight [tr]
Broke-the-Bank Mountain [tr]
Hockney does Mapplethorpe [tr]