21-year-old Adam Hernandez sentenced to eight years in prison for the strangulation death of Kevin Hale last July near Denver. Hernandez pleaded guilty to manslaughter and theft. "Hernandez told investigators he wanted to beat up Hale because Hale had made sexual advances toward him." Hernandez accomplice Jason Fiske, who held Hale in a chokehold until he died, is charged with first-degree murder.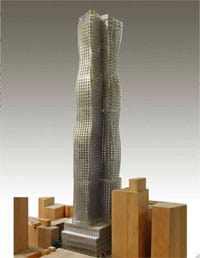 Downtown New York skyline to get warped Gehry skyscraper! Gehry seems to be going up everywhere.

Hugh Jackman says he knew people thought he was gay when he was starring in The Boy from Oz on Broadway: "My wife saw the show about 40 times and she'd laugh every time she went to the washroom in the interval. All she'd hear was, 'Is he or isn't he one?' Then someone else would say, 'Oh, that doesn't mean anything!' We had a good laugh about it. "I didn't get any awkward propositions from men, but I was already used to the gay scene, having been brought up in Sydney."

There are swimwear 'dos' and then there are swimwear 'don'ts'.

It happens every year: gay student turned away from prom after showing up in a "slinky fuchsia gown and heels." Kevin Logan, who dressed for school every single day this year "wearing makeup, a hair weave, nails and girls' fitted jeans" believes he was discriminated against. The school says it was the prom dress code, not the boy's sexuality, that barred his entrance. Logan: "I have no formal pictures, no memories, nothing. You only have one prom."

Frameline, the "longest running and largest" gay and lesbian film festival announces line-up for its 30th season, to begin next month in San Francisco.