President Bush met with the 2006 Olympians at the White House yesterday, where his address of the athletes as "dudes and dudesses" got a hearty chuckle.
Besides offering his muscular back as a desk, newly christened Philadelphia Eagle Jeremy Bloom attempted to kiss the President's ass by presenting him with a Donovan McNabb signed jersey but when the President ignored him, Bloom turned and gave it to Laura Bush instead. Soon after, W noticed.
I wonder why Bloom just didn't give him a signed jersey off his own back. Now that would have been noticed.
"I'm trying to get some extra points," Bloom said with a laugh. "I'm trying to be a politician." Umm, yuck.
Hmm, Bloom as a Bush Republican. Not sure I can get on board with that. Hotness should be kept bipartisan.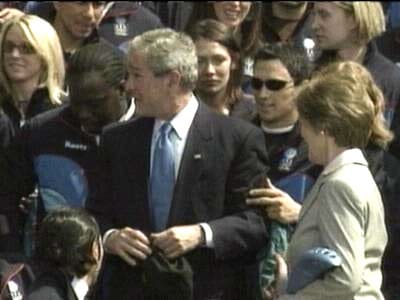 Previously
Jeremy Bloom Gets His Eagle On [tr]