Journalists told that if and when Clay Aiken magically appears in a poof of golden stardust at the American Idol finale, they are not to ask about his alleged appearance on webcams across the country.

Russian Orthodox Church says Moscow Gay Pride absolutely must not happen. We'll see.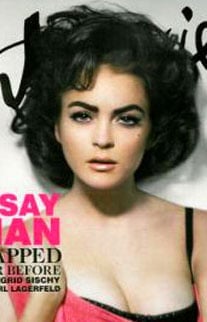 Lindsay Lohan channels Liz Taylor.

There is a new "Making of" featurette on the upcoming Bill Condon Dreamgirls adaptation. And a report from the Dreamgirls junket at Cannes: "The images that flash before is in the tightly cut part are almost shocking at times, ranging from what looks like black and white to gold lame suits and some great butt bouncing to the young girls to the aging cast, from love to hate, from fun to fear. The combination is undeniable. It's not a Miramax slap-dash con job where all you see is a quick cut reel so you really can't see the impact. It also doesn't try to tell the whole story and I imagine that only a handful of people are left in the press who saw the show on Broadway all those years ago. But with four full numbers and the 'trailer,' you get the breadth and the width of the film. And it couldn't be much more exciting."

Matt Drudge looking for any opportunity he can to smear Al Gore and his new global warming film, An Inconvenient Truth, reporting that the former VP and his entourage drove five cars 500 yards to a showing: "ThinkProgress contacted Gore's representatives, who unequivocally confirmed that Al Gore and his associates walked from the Majestic Hotel to the screening at Cannes. Further, Paramount has committed to making the entire tour promoting the film carbon neutral."

Prince William hops on a faster bike.

Tabloid: Nicole Kidman books Bette Midler to sing "Wind Beneath My Wings" at her wedding. Source: "It's not like she's booked some random singer to do it – she's got the original artist. That should get a few people crying into their tissues."