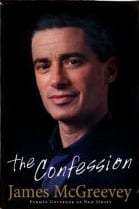 Amazon is now selling a special package: Everything You Wanted to Know About the Closet But Were Afraid to Ask.
You can buy former New Jersey Governor James McGreevey's new memoir The Confession
, and the Brokeback Mountain DVD in a kind of retail civil partnership.
In addition to the one from yesterday, here are a few new choice excerpts from McSteamy's forthcoming tell all:
On pretending: "I studied the moves, figured out what worked and what didn't, practiced and perfected my perfect inauthenticity."
On attending the League of Municipalities conference in Atlantic City which, according to McGreevey, is the heterosexual political equivalent of a highway rest stop: "All around me, pickups were taking place in plain sight. People would be talking about the event for weeks to come — who got lucky, who got stiffed, and what everybody else thought about it. This was a terrible place not to be straight. It was amazing to me how often we ran into local political operatives in such places — because a great deal of New Jersey's backroom business is conducted by men while folding bills into the waistbands of women dancing in their laps. It was like ancient Rome, or some tawdry modern variant in which aspiring politicians did their level best to be seen at clubs with names like VIP and Cheeques. I was one of those young men."
On life in the closet: "As the years went on, I became as avid a womanizer as anybody else on the New Jersey political scene. But my attraction was largely artificial, my sexual performance a triumph of mind over matter. As glorious and meaningful as it would have been to have a loving and sound sexual experience with another man, I knew I'd have to undo my happiness step by step as I began chasing my dream of a public career and the kind of 'acceptable' life that went with it. So, instead, I settled for the detached anonymity of bookstores and rest stops — a compromise, but one that was wholly unfulfilling and morally unsatisfactory."
Hmm, I could think of a few folks who might appreciate receiving this special two-fer.
Related
Political Lives, Brokeback Wives [tr]
Exiled NJ Governor to Tell All [tr]
NYT: Cruising for Sex [tr]