Okay, so I haven't done an American Idol post all season, so I guess now is the time. I just checked my temperature and there's no McPheever, and I'm sure I don't have enough "Wooo" in me to be a member of the Soul Patrol, but I think there's an obvious winner here, and Simon Cowell, the only real critic on television, said it last night.
However, my note has nothing to do with the final decision, but is a bit of advice to the AI producers. Force Taylor Hicks and Katharine McPhee to record one song together, and let this be the song:
"Up Where We Belong" — Joe Cocker and Jennifer Warnes

Now, if you don't remember (or were too young), this song was a huge pop hit back in the day. And if there are two voices perfect to remake it, they are Taylor's and Katharine's. If you don't believe me, listen.
Maybe this pick is just cheesy enough to inspire the American public to welcome back a contemporary pop duet revival. Maybe.
And maybe one day Tori Spelling will have earned enough respect for the Idol producers to actually ID her properly.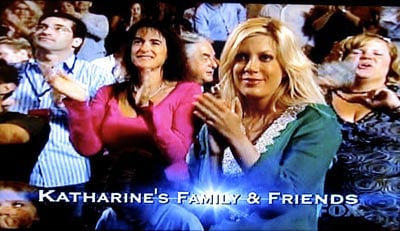 There. I said it. And I'm really looking forward to watching the Gayken belt one out tonight.