What would Jesus do? The Archbishop of Kenya literally abandons the Bishop of Chelmsford, the Right Reverend John Gladwin, and 20 curates in rural Kenya after he discovers that they are patrons of "Changing Attitude, the campaigning group that aims at the 'full inclusion' of lesbian, gay, bisexual and transsexual people in the Church of England."

A 46-year-old gay man is suing Qwest after co-workers allegedly left anti-gay pamphlets on his desk and called him "faggot." Donald Moreau: "I did everything a good employee is supposed to do — I showed up to work on time, did my job well and received praise from my supervisors even though I was constantly subjected to extreme verbal attacks by my coworkers. I acted professionally and Qwest had policies in place to protect me, but they chose not to."

The White House has plenty more records on Jeff Gannon's visits they haven't released. Hmm. (via americablog)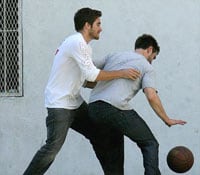 Jake Gyllenhaal loves the ball sports.

The Washington Post investigates the defaced sign in Maryland I posted about yesterday: "The 72-year-old business owner broke down and cried yesterday as she wondered why someone had altered the sign on the door by painting out certain letters and adding others to discourage black and gay patrons. 'I have no idea who would mess with my sign. I can't believe that someone would be that vicious,' said Sturgell, who has run the inn for 30 years."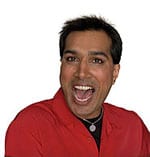 After threatening to kill himself and causing general chaos in the house, gay UK Big Brother contestant Shahbaz Chaudhry walked out of the house after four hours of counseling amid fury from fans that the producers allowed a contestant with serious mental illness on the show.

Five people in Delaware are facing criminal charges after clashing with Fred Phelps' Westboro Baptist church as they protested at another Marine's funeral.

Dana Carvey and Mary Cheney: separated at birth?

Scientists grow replacement penises…in rabbits. They see possibilities for the future in treating impotence and erectile disfunction in humans. (via payor)

Ang Lee follows up Brokeback Mountain with Lust, Caution.

During Dublin visit, Irish students accuse Australian Prime Minister John Howard of entrenching homophobia through his actions on same-sex marriage. Howard: "I think it is a form of minority fundamentalism to say that you have to, in every aspect of one's institutions and one's arrangements in society, have technical equivalence."

New York theatergoers show Lestat the garlic. The Elton John, Bernie Taupin, Anne Rice collaboration will close after 39 shows.