A Gyllenhaal outing! No, not that kind of outing.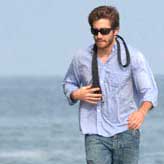 Manhunt while you ramble? New York City announces free Central Park wireless access.

Swedish male pop duo Lo-Fi-Fnk encourage "steppingout" on new single: "I think you should tell us. Don't you think we noticed? We just want you to be straight up. We're gonna defend your pride now."

The largest Apple store in the world opens this Friday and not only will it be open 24 hours a day, it will boast "retail innovations". Oooooh.

Coded clothing? Boozhy hops on the Nicolas Kiefer bandwagon and thinks the German bad boy tennis star may be flirting with us…

Prince William comforts man after his father collapses at football match: "'He was such a nice fellow, very considerate and understanding,' said 32-year-old father-of-two. 'It was amazing. He said, 'I'm very sorry to hear about your father passing away. It must have come as a real shock for you'.' Gary, who said the Prince seemed genuinely upset, described Wills' support as a 'godsend'. After a while bodyguards motioned the second-in-line to the throne away, leaving the grieving son overwhelmed by the day's events. 'I burst into tears the minute he left. It was such an emotional moment.'"