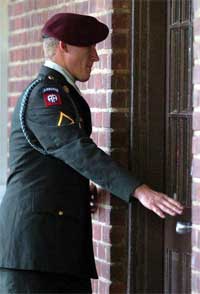 Pfc. Wesley K. Mitten, 21, the "ringleader" of the members of the 82nd Airborne charged with appearing on gay porn sites, has had his day before the military court. Mitten was considered the "ringleader" because he allegedly recruited other members of the unit.
Mitten pleaded guilty "to sodomy, conduct detrimental to the Army and using cocaine" in a plea bargain that will send him to jail for three months, demote him to private, take 2/3 of his pay, and send him out of the military on a bad conduct discharge.
Mitten performed under the name "Donnie" and was first courted to the Active Duty website by owner Dennis Ashe, who agreed to pay him $2,000 for his services. Mitten made $6,000 in total.
Two other soldiers, Kagen Mullen and Richard Ashley, received plea bargains earlier this month and are now serving 90 and 75 days in prison, respectively.
Mitten made a statement to the court before receiving his sentence: "It was for the money, your honor…I am sorry for disgracing my family name and my unit. I am sorry and I wish I could take it all back."
Porn ringleader sentenced [fayetteville online]
Previously
Mark Simpson, Details, and the 82nd Airborne [tr]
Seven 82nd Airborne Soldiers Charged in Gay Porn Case [tr]
Active Duty Soldiers and Gay Internet Porn [tr]
82nd Airborne in Gay Porn Scandal [tr]
(thanks marc)