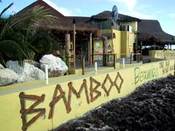 The first suspect held in the savage St. Maarten gay bashing incident that injured news producer Dick Jefferson and his companion Ryan Smith on April 6 has been released after being in custody for 26 days. Prosecutor Taco Stein said that the man "probably went back to the French side" of the island, but remains a suspect in the case. Dutch and French authorities began working together on the case, after an unforgivably long delay of several days after the attacks took place.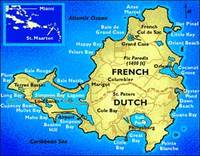 Two suspects remain in custody, according to Dick Jefferson, who communicated by email to Towleroad this afternoon. Jefferson noted that "at least four others, including the man who crushed [his] skull with a tire wrench, remain at large," and expressed frustration with the sluggishness of the investigation, part of which has to do with bureaucracy between the French and Dutch sides of the island.
Writes Jefferson:
"Part of the delay has been the unique nature of the island, which is split between the French and the Dutch (Netherland Antilles). I appreciate that the French Prosecutor has agreed to pursue the case. But, Mr. Stein informed me today that his office has just now been able to complete translation of all the documents of the investigation into French. This diplomatic formality has allowed the would-be killers to remain at-large, and possibly escape.

Now that the paper has been shuffled, I hope the people on both sides of the island come forward with information that will lead to the arrest of these monsters, who repeatedly tried to kill us simply because we were gay. As I have said before, the police are only as good as the people they serve. The longer the people of St. Maarten/St. Martin continue to aid and abet the criminals, the more severe the damage will be to the island's tourism."
As troubling than the slow progress, adds Jefferson, is that it continues even after "numerous witnesses have identified the violent assailants."
Jefferson supplied Towleroad with the emails of both the Governor of St. Maarten ([email protected]) as well as the Tourism Bureau ([email protected]) for anyone interested in voicing concerns about the investigation and about the treatment of gay people on St. Maarten.
Previously
Update: Arrests Made in St. Maarten Gay Bashing Case [tr]
St. Maarten Gay Bash Update II [tr]
St. Maarten Gay Bash update [tr]
St. Maarten Gay Bash Attack Victim Speaks Out [tr]
Brutal Gay Bashing on St. Maarten [tr]