The New York Court of Appeals is set to hold a final hearing tomorrow on four cases that will decide whether or not same-sex couples can marry in New York state. Those attempting to handicap the court's decision say it's too close to call. NYC Republican Mayor Michael Bloomberg used his Sunday radio address to voice his support for gay marriage: "I believe New Yorkers should have the right to marry whomever they choose, regardless of sexual orientation. If they [the Court of Appeals] rule that same-sex marriages are legal, then we'll perform them." He also used the address to reiterate his opposition to an anti-gay Federal Marriage Amendment. "The U.S. Constitution should be something that unites, rather than divides Americans."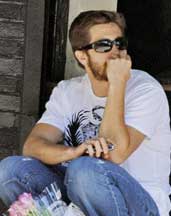 Jake Gyllenhaal: Out with the Olympic snowboarder and in with Queen Padmé Amidala?

Report: NBC may pay Madonna $15 million, the highest price ever paid for a TV concert special.

Activists call for a boycott of the New Zealand LGBT Film Festival after it offers people who sign up for a membership the chance to win a trip to Fiji, where gay sex is punishable by up to 14 years in prison with hard labor.

With wine bars and football tournaments, Buenos Aires is "booming" as a gay destination.

Brazil introduces first gay dictionary: "I don't really recommend it to tourists trying to fit in because I don't think any of you want to cruise at a bar in Brazil talking like a drag queen."

Weekend Box Office: X-Men mutates to $120 million win. Fourth highest grossing weekend ever.