This is ridiculous. A high school teacher shows a 2 1/2 minute clip of Brokeback Mountain to students and an "investigative inquiry" is launched. The clip showed nothing sexual. This isn't the first time the school has been embroiled in gay issues: "Students in Boyd County have been divided in recent years over gay issues since a group of students petitioned to form a gay awareness club at the high school in 2002. A lawsuit ensued and the school district later settled. The agreement called for anti-harassment training for all staff and students." Guess the anti-harassment doesn't extend to teachers attempting to teach tolerance.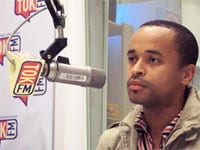 Meet Krystian Legierski, one of the leaders in Poland's fight for gay equality. Rod 2.0: "It's amazing that Krystian is fighting for gay equality in a country where so many of his compatriots even refuse to recognize him as a fellow Polish citizen. Just to imagine what his daily life must be like … wow, it almost makes our life over here seem like a cakewalk."

Fluxblog chimes in with a Nouvelle Vague cover of "Dancing with Myself."

Brandon Routh's early reaction to Superman? He puked.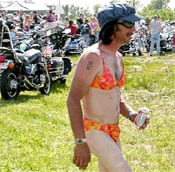 And people think Gay Prides bring the freak out in people? Cityrag presents the magic of a Harley Davidson gathering.

Auction bids to party at the Beckham's mansion prior to the World Cup have gone over £100,000.

Moscow authorities officially refused to sanction a gay pride parade scheduled to take place there on May 27th, as expected. Organizers still plan to hold the parade. Expect violence and protests, say Moscow government leaders.

The Go Fug Yourself girls give it to pottymouthed creep Brandon Davis.

The Senate Judiciary committee okayed the Constitutional Amendment banning gay marriage yesterday, after Russ Feingold walked out. This was expected. The amendment is widely expected not to pass the full Senate and is seen as a purely political ploy attempted to appeal to the Republican base in a mid-term election year.