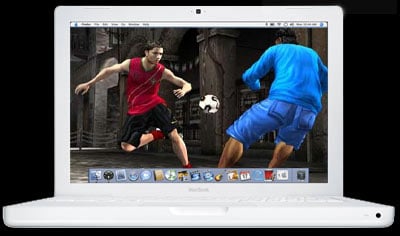 We continue this week's Apple worship in our latest installment of Towletech from our correspondent Daniel Williford!

Apple replaced its popular iBook on Tuesday when it introduced the new MacBook. The specs on this latest laptop rival those of the MacBook Pro, making the consumer-friendly MacBook a much better value starting at $1099. New features include a 13" glossy screen that provides a crisp, vivid display, and a new color in the series: matte black.

Apple will work with Japanese manufacturer Softbank on the first official iTunes cell phone, IDG News Service reported this week. The phones will reportedly be available next year and will eventually link directly to the iTunes store for content downloads.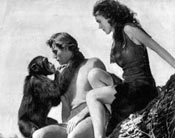 Along the path of evolution, did modern humans and chimps develop through inbreeding? That's the latest theory. "It's a totally cool and extremely clever analysis. My problem is imagining what it would be like to have a bipedal hominid and a chimpanzee viewing each other as appropriate mates, not to put it too crudely," responded one Harvard scientist. Sometimes it gets lonely in the jungle.

Windows released Windows Media Player 11, the latest version of its music player. This time, however, it's gotten a major upgrade to look and function more like iTunes. It provides an interface to organize and access all digital media, from music to photos to videos, and it is also integrated with MTV's new music store URGE, which sells songs on-demand for .99 cents or via monthly subscription. To help find compatible players to go with the new setup, Microsoft's PlayForSure program promotes digital devices and online services that aren't Apple.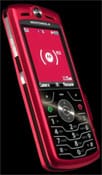 Motorola & Bono released a red SLVR phone this week in the UK to raise money for fight against AIDS. The phone works with all carriers, and both the sale of the phone and the monthly cost of service contribute to the cause. "I would be very disappointed if this did not generate hundreds of millions of dollars for the global fight to fight AIDS," said Ron Garriques, president of Motorola Mobile Devices.

Motorola, however, makes 9 of the top 10 highest radiation-emitting cell phones in the US, and the SLVR is number one. You can't save them all, Bono. Look up your cell phone's SAR rate (that's the quantity of radio-frequency energy absorbed by your body when using a cell phone) at CNET.

Moby turned up in DC yesterday to show support for legislation that would ensure net neutrality. The legislation comes in response to telecom companies, who provide the backbone of the internet via their own network of telephone and fiber-optic lines, threatening to provide better, faster performance only to websites that pay them for the privilege. At the press conference Moby spoke on behalf of a group called Savetheinternet.com. Warned Moby: "If Congress guts Net Neutrality, independent music and news sites would be choked off, consumer choice would be limited, and the Internet will be become a private toll road auctioned off by companies like AT&T."

Hillary Clinton also issued a statement yesterday, declaring her intentions to cosponsor new net neutrality legislation. "Any effort to fundamentally alter the inherently democratic structure of the Internet must be rejected."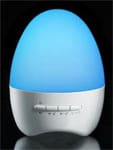 Remember the lava lamp? Yeah, me 'neither. But this classy mood light might add some ambiance to your next cocktail party. The egg-shaped lamp houses 10 LED lights that connect to your MP3 player and change color in sync with the music. Groovy.

It was all about online video this week. AOL launched it's UnCut Video portal (slogan: "See it. Shoot it. Share it."; HOT!), Yahoo launched its own video site allowing you to search video on the web as well as upload your own, and Google re-launched an enhanced video search page, with less-restricted video hosting. Why do you care? Because, these are several more outlets for guys to post videos of their wet underwear parties. Duh!
Past editions of TowleTech can be found here!
Daniel Williford can be found on the net writing his blog Until Today. Give him a visit!