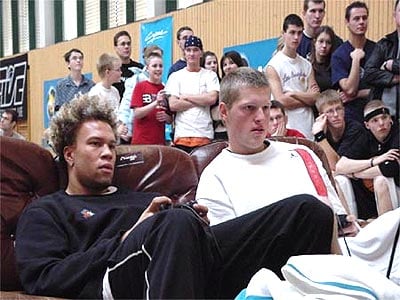 Towleroad correspondent Daniel Williford is back to make your joystick happy with this week's edition of TowleTech.

The big news in tech this week was the Electronic Entertainment Expo, where the top three video game console manufactures dazzled gamer enthusiasts with the next generation of video gaming. It became clear, even for non-gamers, that this was an area where a lot of innovation is happening in the realm of computing. The "console with the most buzz" award certainly went to Nintendo, which launched its Wii (pronounced "wee") console. Wii's primary remote-like wireless controller includes physical movement as part of the interface, allowing for a new form of interaction between the user and the game. The attachable "nunchucks" controller brings in a two-handed approach, creating a never-before-seen use of video game controlling. Expect to see these innovations bleed into desktop computing in the future, and expect to hear a lot more about video games these year — Wii isn't due out until this Fall.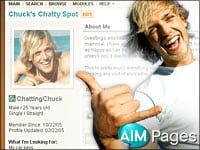 AIM (that's AOL Instant Messenger) launched a major competitor to MySpace this week with AIM Pages, a new social networking site. This is huge, since MySpace is one of the top websites on the internet today, and since AIM is the widest-used instant-messaging program on the market. Aside from that, however, AIM Pages offers little innovation in social networking sites. However, some of the designers of AIM Pages are kinda cute…

Though the title of this NYT article is Why the World Doesn't Need Hi-Def DVD's, it offers some insight into the up-and-coming DVD format. "As you watch the brilliant colors, super-black blacks and ridiculously sharp detail — up to six times the resolution of a standard DVD — you realize that you've never seen anything quite this cinematic-looking in your home before." The article notes, however, that you need a large-screen television to appreciate the high-res images.


This sexy video features French figure skater Brian Joubert training on an interesting piece of fitness equipment. Could this high-tech gadget be the future of gym equipment? Like a balance ball-cum-elliptical machine, the athlete demonstrates a state-of-the-art piece of equipment that you may very well be using in the future. And he does it in his underwear. While speaking French. I'm just saying…

While we're not sure how they get away with it, we're duly impressed with Spot Bit's offering of dozens of magazines in downloadable PDF formats — for free! Grab Vanity Fair, Men's Health, NME, and Time…before someone gets sued.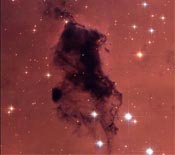 MSN shows off some amazing space photography released in recent weeks.

The WaterMat is a 20 foot by 6 foot floating island that supports up to 1500 lbs of summer fun. "Walk. Jump. Dance. Slide. Relax. All on the surface of the water." And all in tiny amounts of clothing. God, I love summer. (via uncrate)


Wired reports that, in lieu of megapixels, which have hit a certain maximum for the average consumer, digi-cam manufacturers are focusing on other details, such as better lenses, automatic quality adjusters, and image recognition. This Kodak V610 uses two lenses for a better-quality zoom lens and includes software that recognizes faces and scenes and automatically organizes photos by content.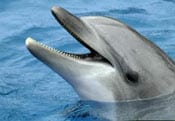 According to scientists who study this sort of thing, dolphins actually call each other by name when they make those crazy squealing sounds, "making them the only animals besides humans known to recognize such identity information."; A leading researcher was able to translate 'Eee-eeeh, eeee-eeeet!'; as 'Hey Bryce, did you notice the size of that fin on Cristiano?'; Thank you, I'm here all week.
Daniel Williford writes our weekly Towletech column and also has his own blog, Until Today, which you're very welcome to visit!
Past editions of TowleTech can be accessed here!