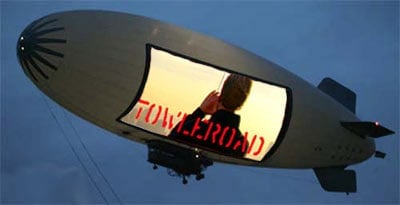 Towletech correspondent Daniel Williford brings you this Cinco de Mayo edition of tech news, which has absolutely nothing to do with Cinco de Mayo. You are, however, welcome to enjoy it with a Margarita.

Flashy billboards are nothing new, nor are blimps that soar over large crowds to promote a brand name, but a blimp toting a flashy billboard? With flat-screen panels getting larger and cheaper, Lightships is the first to announce a blimp with an integrated 30 foot by 70 foot color LCD screen. The screens are optimal for night-time viewing, allowing for the use of blimp-advertising around the clock.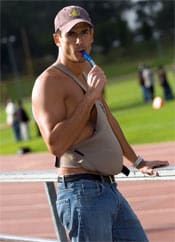 The Beerbelly lets you sneak a sack full of beer into your next outdoor summer event by hiding it in plain view: in your stomach. Well, on. The extra gut looks passable under a shirt, and saves you from dropping 8 bucks for each plastic cup of Bud Light. Of course, the guys who really want to use this may not have the, uh, extra room for an 80oz sack of brew. (via gear factor)

We mentioned recently that up-and-coming mobile phone provider Helio was rumored to be in talks with Apple to provide branded cell phones & service. With their launch this week, while there's no talk of Apple yet, the company did reveal their commitment to cater to the young, affluent, and tech-friendly set with pricey phones that are plugged directly into social networking site Myspace. "MySpace on Helio" lets you post photo bulletins, send messages, view your friends' pages, post comments and add new friends all from your phone. Now you never need to be away from MySpace again. Oh look, AddictedToMyspace has added you as a friend…


MacWorld suggests that the porn industry will likely be the deciding factor in which high-definition dvd standard is adopted by consumers, just as they did when they favored the lower-priced VHS format over Beta in the early eighties. So far, it appears that the porn industry is leaning towards Blu-Ray. Soon, you'll be watching amazingly crisp, detailed footage on your 4 foot tall HDTV of Dangerous Liaisons and La Dolce Vita (NSFW). The XXX versions, of course.

Gizmodo has the inside scoop about Amazon's potential foray into the digital music market. A reliable source tells them that Amazon may announce its own iTunes-like music store in the very near future, and may also release Amazon-branded music players. Users would be able to purchase digital versions of albums or songs, or purchase a monthly subscription for downloads. Subscribers would get a 20% discount on physical CD purchases, and customers who purchase physical CD's would be allowed to download an MP3 copy of the CD while they wait for it to arrive. I smell a major iTunes competitor…


In the meantime, Napster announced that it will allow free use of its song catalog so that users can sample new music. "You can listen to every track in our 2,000,000 song catalog up to 5 times for free. That's 10 million free plays!" After five plays of one song, you'll have to either pony up or become a Napster subscriber. Still, it's a nice way to sample the new Nick Lachey album before you realize that you really, really shouldn't waste your money on it.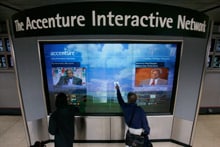 Chicago O'Hare Airport unveiled a large, interactive screen that gives travelers a fun way to get news, information, and entertainment. Multiple users can stand at the 10 foot by 7 foot screen and use their hands to move panels around and select content, much like Tom Cruise's character does in Minority Report. The over-sized gadget will soon appear in NYC's Kennedy Airport, and the company sees it as a fixture in malls and office conference rooms in the near future.
Daniel Williford writes our weekly Towletech column and also has his own blog, Until Today, which you're very welcome to visit!
Past editions of Towletech can be accessed here!