Gay marriage argued before New York's highest court: "Has marriage been defined by history, culture and tradition since the dawn of Western civilization, or is it an evolving social institution that should change with the times?" (Listen to NPR's report)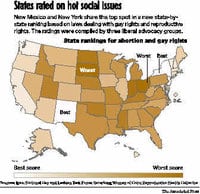 New York and New Mexico lead the country in a new ranking of states with the most favorable gay rights and reproductive rights laws. Ohio and South Dakota are tied for last place.

If it ain't broke, don't fix it: More Canadian MPs are questioning whether the gay marriage debate should be re-opened in that country. MP: "Now, people have moved on, it's just not an issue. It is for a very small minority of people. At the end of the day Canadians are much more interested in how the federal government is going to tax them, what our stance is on the increasing crime on our streets, what's the role of the military . . . and not same-gender marriage."

New BRAVO gay and lesbian site, OutZoneTV, to launch on June 12th.