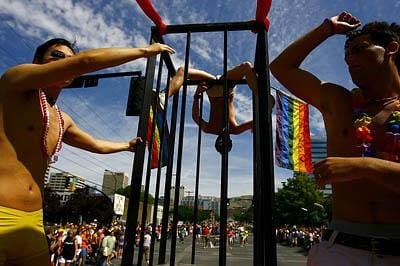 In addition to Bucharest, Romania, Gay Pride was also held over the weekend in Salt Lake City, where police officers used the festival as a recruiting opportunity for the first time this year.
A first-ever Pride parade was also held in Los Altos, California where it was organized by the high school's gay-straight alliance after the town earlier this year voted to ban gay pride proclamations. The group's 16-year-old co-president Nicolette Bocalan said, "There is a silent youth here that is afraid to be anything but silent. This parade is as much for giving them hope as it is for celebrating our own pride." (VIDEO).
And New Paltz, the small New York hamlet that drew nationwide attention when its mayor Jason West began marrying gay couples in 2004, held its gay pride celebration.
The NYC Borough of Staten Island held its second parade. Organizer: "There's 450,000 people who live there. We are major contributors to life here on Staten Island, and it is time for us to show our colors and be out to have a good time and show people what we are all about"
SALT LAKE CITY: Law Enforcement officers make recruiting splash [ksl utah]
Invigorated gay community shows pride [salt lake tribune]
LOS ALTOS, CALIFORNIA: 300 march in gay pride parade organized by high school group [sf chronicle]
Los Altos Holds First Gay Pride Parade Sunday [cbs5]
NEW PALTZ: Gay Pride March, Festival, Return to New Paltz [daily freeman]
STATEN ISLAND: Staten Island Hosts Second Annual Gay Pride Parade [ny1]