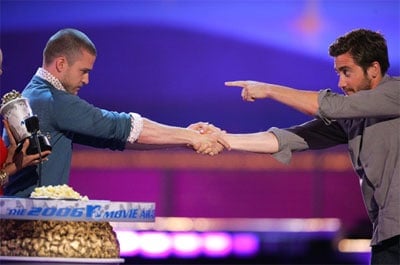 Those of you who care to be spoiled, the rest of this post is after the jump.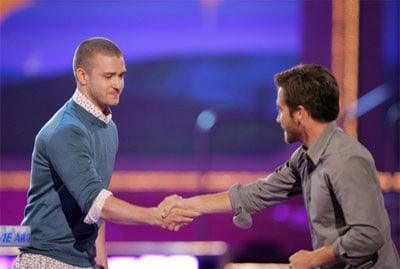 Heath Ledger was nowhere to be seen as Alpha Dog Justin Timberlake presented Jake Gyllenhaal with his 'you da man' moves and a bucket of golden popcorn as Jake and Heath Ledger took the award for "Best Kiss" for their Brokeback Mountain canoodling. The LA Times called it a show of tolerance from today's teens.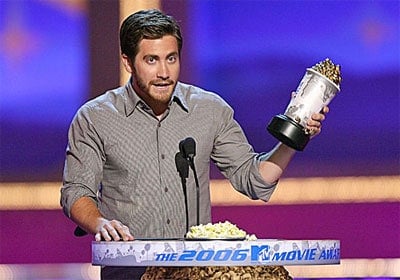 Said Jake: "This is a real honour, not just for me and Heath but for all of you, that you picked this movie and this kiss over all the other ones."
To our great disappoint, he neglected to demonstrate his kiss on Justin.
Perhaps Jake wasn't interested in any more violent man-on-man making out.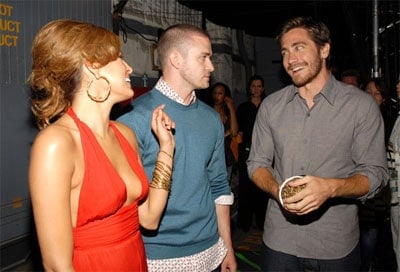 They did however, talk together backstage and touch in the way real men do.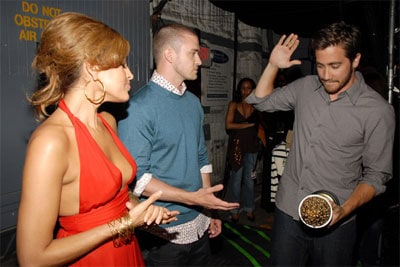 Trent at Pink is the New Blog was on the red carpet and didn't get close to Jake but did grab some hot snapshots and some face time with MTV hottie Landon Lueck.
The kiss:
Previously
Broekback Exclusive: Heath and Jake Swap Spit [tr]
(source: ohnotheydidn't)