Ozzie Guillen issued a rather meaningless apology for his comments about Sun-Times columnist Jay Mariotti ("What a piece of [deleted] he is, [deleted] fag.") but refused to back down from his feud with Mariotti himself: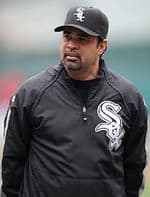 "If I hurt anybody with what I called him, I apologize, but I wasn't talking about those people. I was talking strictly about [Mariotti]. I will apologize to the people I offended because I should have used another word. Besides that, I'm still waiting for Jay. Jay's a piece of s—. If he wants to know, he should be talking to me here right now. If he were a man, he'd be here with you guys right now. Why he's so afraid to show up to the ballpark? When you're afraid to do something, you feel guilty about something, then tell him we'll pay his cab. Tell him to tell us where he lives, and we'll bring him to the ballpark and we'll have a conversation. But that's the way he is. He's garbage, still garbage, going to die as garbage. Period."
Guillen and pitcher David Riske were both suspended today — not for the comments, but for Riske's intentional throw at St. Louis Cardinals outfielder Chris Duncan.
Previously
Sox Manager Ozzie Guillen Caught in Anti-gay Slur [tr]