Australian government vows to do away with ACT civil union laws before they come into effect. PM John Howard: "The legislation, by its own admission, is an attempt to equate civil unions with marriage and we don't find that acceptable."


Has Ashton Kutcher been receiving grooming advice from Britney's bodyguard?

Any protest outside Rick Santorum's office is one I can get behind.

Kathy Griffin makes known her love for Ann Coulter on Today: " I saw that nutbag on the show earlier. What's she doing wearing a cocktail dress at seven in the morning for?"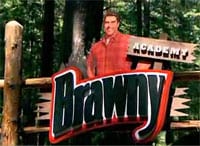 Reality check: "Welcome to the Brawny Academy. I'm the Brawny Man." Take that bad habit and throw it into the fire. If this show is going to be as strange as the commercials, I may give it a chance, although it looks fairly intolerable.

NYC skyscraper update: The NYT does the Hearst Building; Frank Gehry's Beekman Street tower is redone; the goods on Trump's SoHo condo.