TAB: American Idol Taylor Hicks the target of "nasty homosexual lies." According to the Enquirer: "Inside Hollywood's Kodak Theatre, Taylor was freaking out that a 'queer smear' would rob him of victory. First, he blamed a fruity purple velvet jacket he wore. And he was told there were rumors about his sexuality all over the place.'" Not on my Gaydar.

Warsaw, Poland approves gay pride march and an anti-gay march set for June 10th.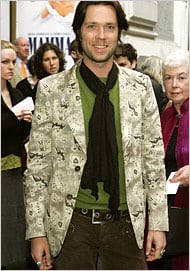 The NYT previews Rufus Wainwright's upcoming re-creation of Judy Garland's Carnegie Hall concert on June 14th. Wainwright: "After 9/11, when we first were going to war and the state of things looked pretty dismal, I bought the rerelease [of the 1961 concert]. Somehow that album, no matter how dark things seemed, made everything brighten. She had this capacity to lighten the world through the innocence of her sound. Her anchor to the material was obviously through her devotion to music. You never feel that she didn't believe every word of every song she ever sang."

Eternal Sunset: Enjoy the sunset, live, from any location, anytime.

What's it like to spend all night in an Apple Store? "We spent twelve hours in the new Apple store, shopping, surfing the Web, fiddling with shiny new gadgets, craving sleep, trying to find out what kind of people shop for Airport Express Stations at 3:00 a.m., and generally overstaying our welcome."

JetBlue to offer high-speed internet on commercial flights.

"Cosmopolitan boutique hotel" for gay men to open in Buenos Aires.