Bill Clinton meets with liberal bloggers…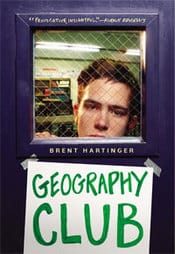 Gay novel Geography Club
by Brent Hartinger, is second-most banned book of 2006, right after Harper Lee's To Kill a Mockingbird. Last November, it was banned from a Tacoma, Washington school district because the school superintendent was upset that its plot depicted students using the internet as a way to meet. At least one parent disagreed: "It is about gay students. However, the most important part of the book is that it's about bullying, outcasts, about tolerance. This is a really good book for any student to read."

Could Whitney Houston have just made the smartest decision of her life? I think so.

Gay Berlin Mayor Klaus Wowereit (fondly known as "Wowi") headed for re-election this weekend.

Scottish MPs back gay adoption. Scottish pastor Ake Green warns constituents to beware of gay "evil forces."

Woman shoots herself one day after severe grilling from Nancy Grace.

Former Texas Governor Ann Richards dies at 73. Immediately identifiable by her shock of white hair and quick tongue, she served in that post from 1991-1995 and was defeated for re-election by George W. Bush. At the 1988 Democratic National Convention, she uttered the well-known line about his father, then Vice President: "Poor George, he can't help it…He was born with a silver foot in his mouth."

Nip/Tuck hunk Julian McMahon says he surprised his co-star Dylan Walsh with a kiss while they were filming: "Well, firstly, it wasn't meant to be a kiss. But I was enjoying Dylan's discomfort so much that I went for it. I've always said we should finish the show with this: Someone turns on the shower, and you see footsteps going in the back door (of Sean's house). Someone comes into the bathroom, and it's Christian visiting Sean. These are two guys who are obsessed with each other."

REPORT: China facing gay AIDS epidemic: "We are seeing the development of a culture in Shenzhen reminiscent of San Francisco 25 years ago which is challenging traditional Chinese values of conformism and acquiescence."