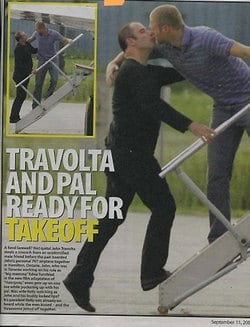 John Travolta has sent his lawyer out to respond to speculation surrounding this photo of the actor kissing a man whom the lawyer reports is his male nanny manny.
"Martin insists that the smooch was harmless, and that Travolta's wife, Kelly Preston was also on board the plane which ferried him and the nanny home from Ontario, Canada. He said that his client's kissing another man was just a manner of customary greeting, and that Travolta kisses all those men and women whom he considers his close friends. 'As a manner of customary greeting and saying farewell, Mr Travolta kisses both women and men whom he considers to be extremely close friends. People who are close to Mr Travolta are aware of his customary, non-romantic gesture.'"
This raises a few questions…
> Is it really proper in this day and age of sexual harassment lawsuits to kiss the help?
> If Kelly Preston were a beard, would she really give a hoot that John was having a 'Gone with the Wind' moment on the tarmac?
> Does everybody have a manny these days?