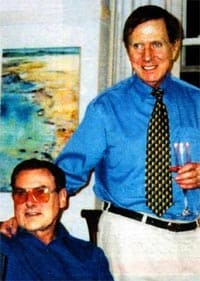 Australian High Court Justice Michael Kirby, who has been with his partner Johan van Vloten for 38 years, spoke out about gay marriage over the weekend as the ACT considers new legislation regarding civil unions in the territory. Kirby said he doesn't understand why same-sex marriage is so threatening to others:
"It is a source of puzzlement to Johan and me, as we go about our tranquil lives, that there are many fellow citizens, some of them well educated and very important, who seem to be threatened and upset by such relationships and who feel the need to discriminate against them by laws enacted or unenacted by our nation's parliaments."
Kirby also noted that, although he and his longtime companion had not considered getting married, the option should be available and legal under Australian law:
"Naturally, we recognised that this was hardly the relevant question – the issue is not whether marriage is wanted by everyone but whether … it should be available to all citizens who feel the need for that form of public affirmation of their relationship."
Last May, the territory passed a Civil Unions Act which would have allowed same-sex "civil unions" to take place. The act was disallowed by the federal government in June.